Eklentiler
Bu sayfa, Scratch Eklentileri'nde bulunan tüm eklentileri listeler.
Bu sayfa tamamlanmamıştır ve resimleri tamamlamak için yardımına ihtiyacımız var. Daha fazlasınıburadan okuyun.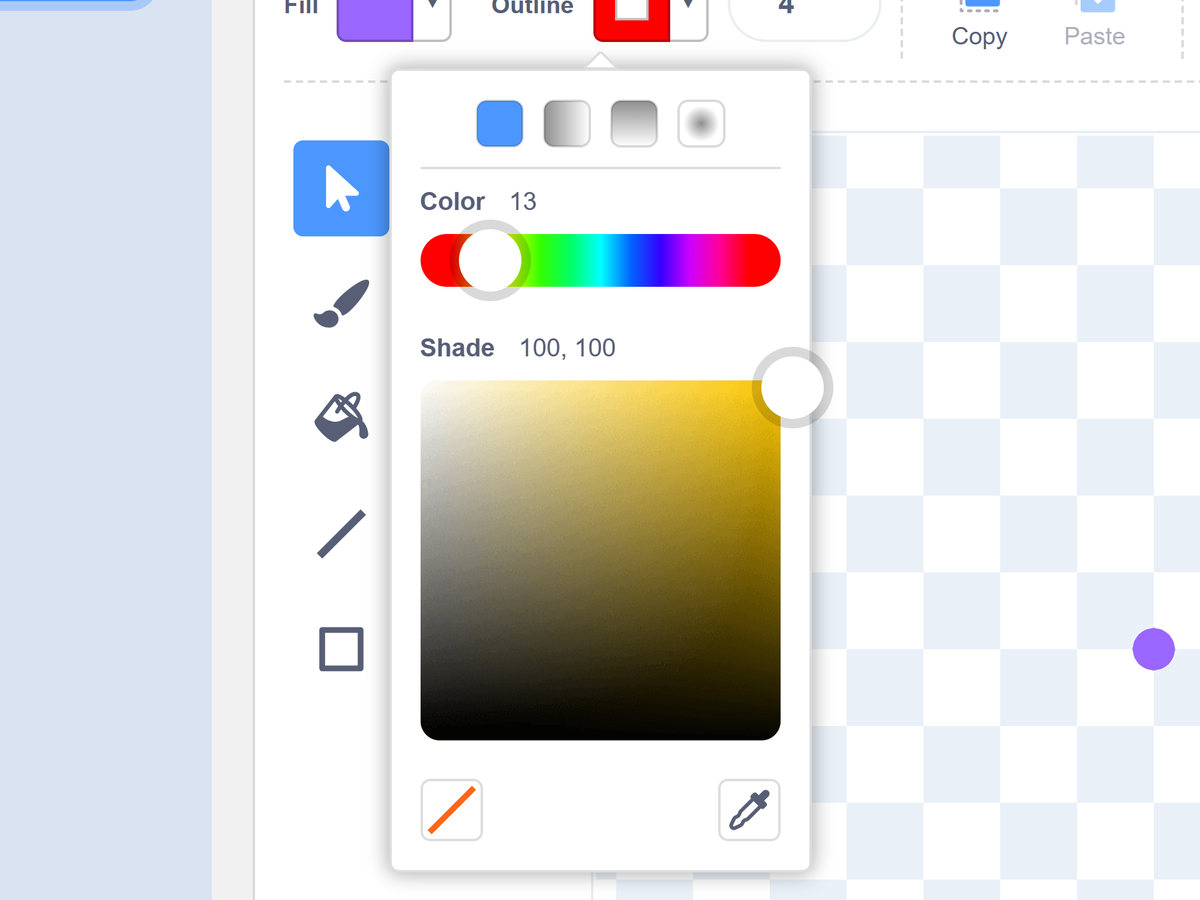 2D renk toplayıcı
2d-color-picker
Replaces saturation and brightness sliders in the costume editor with a 2D color picker. Hold Shift while dragging the cursor to change the values on a single axis.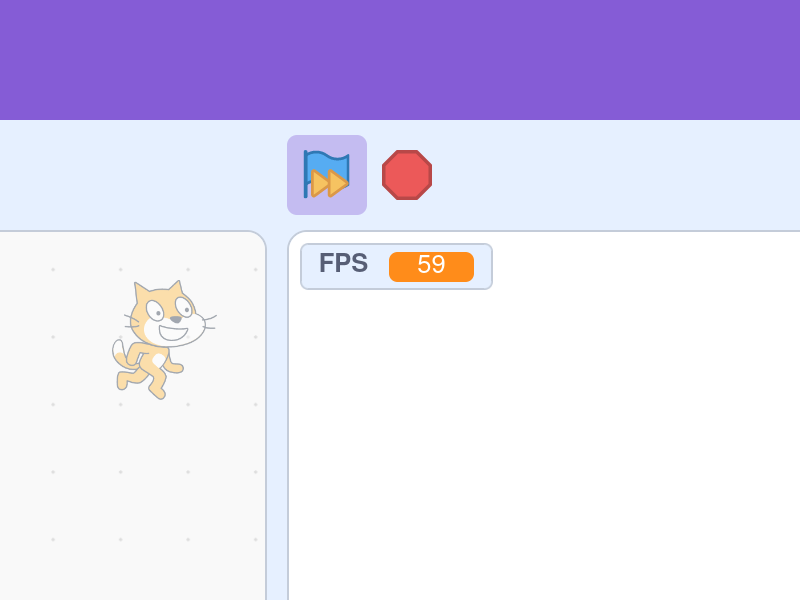 60FPS project player mode
⭐
60fps
60FPS'e geçmek için yeşil bayrağa alt ile tıklayın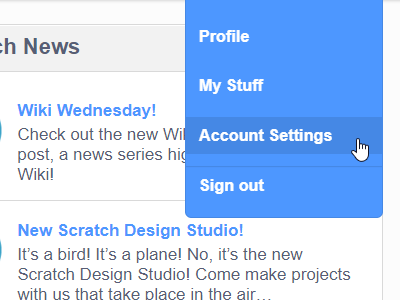 Büyük Harfli Hesap Ayarları
🥚
account-settings-capitalize
Hesap menüsündeki "Hesap ayarları"nı "Hesap Ayarları" ile değiştirir.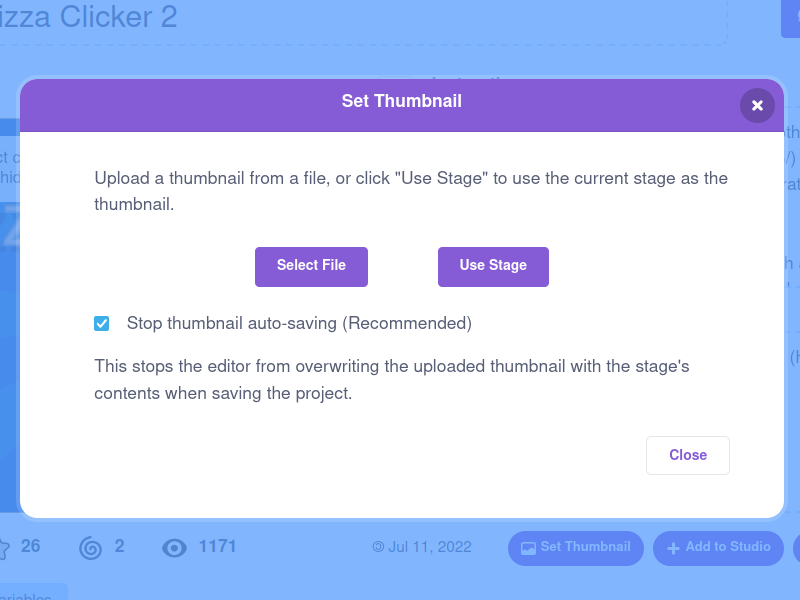 Kapak fotoğrafları değiştiricisi
⭐
animated-thumb
Adds a button to the editor menu bar to set the thumbnail of your project to any image (including gifs).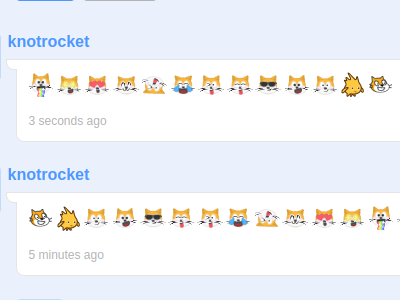 Daha iyi emojiler
better-emojis
Replaces the cat emojis in comments on the website with improved vector designs.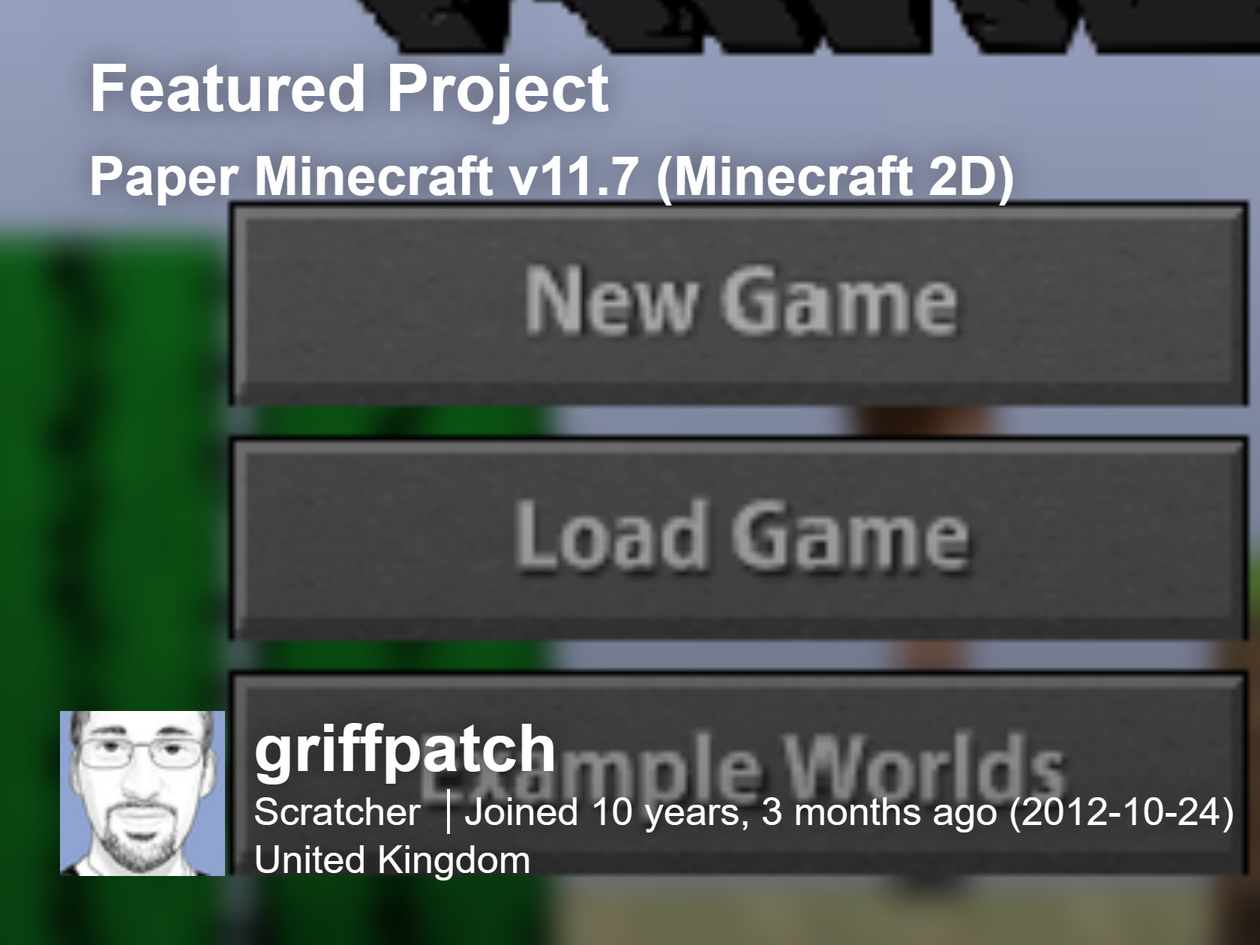 Profil sayfası bandı
better-featured-project
Turns the featured project on any user's profile into a nice-looking banner.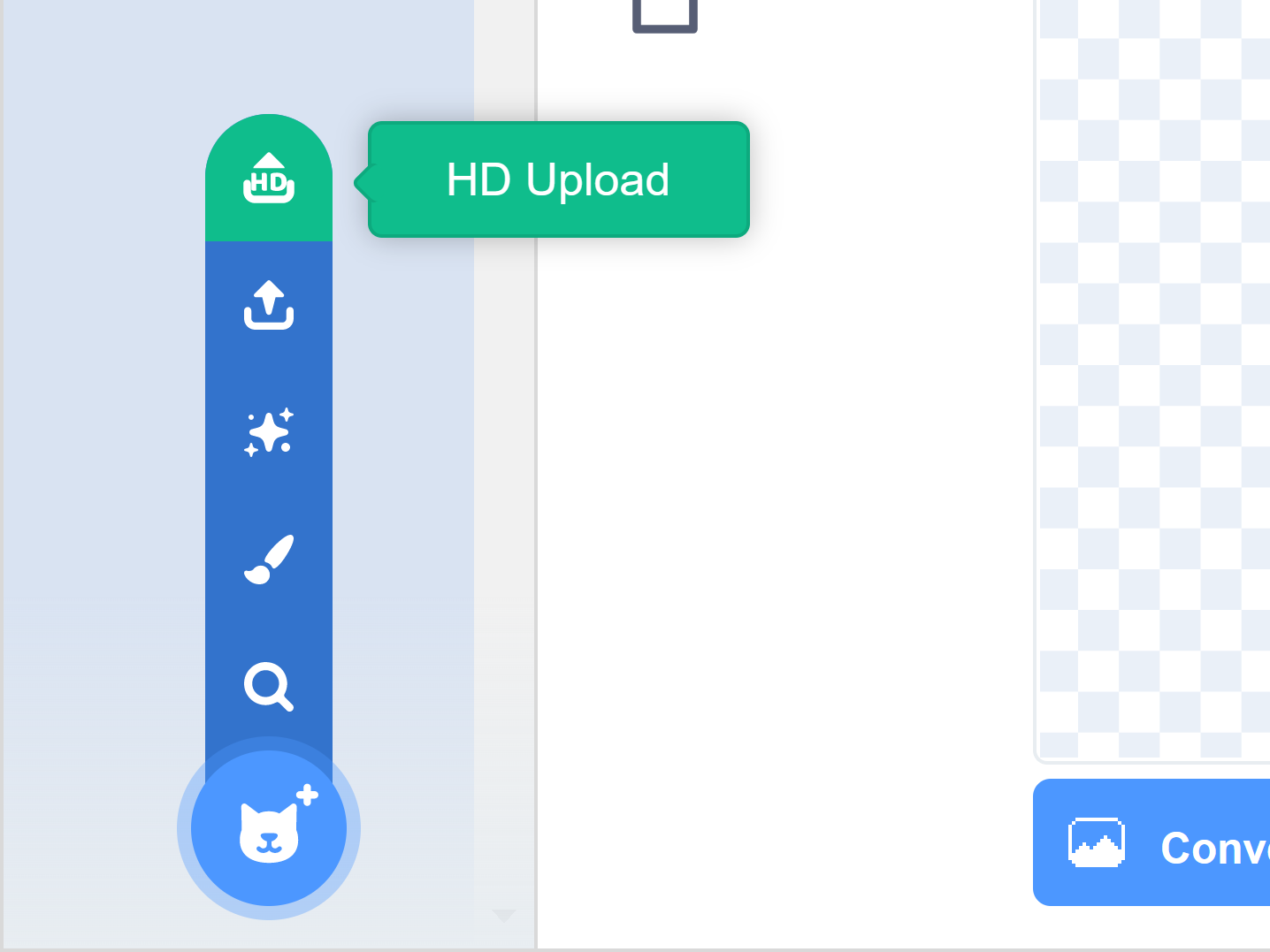 HD görüntü yükle
better-img-uploads
Adds a new button above the "upload costume" button that automatically converts uploaded bitmap images into SVG (vector) images to avoid losing quality.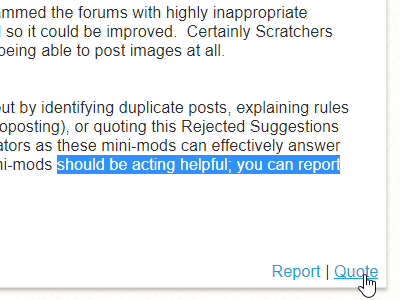 Daha iyi forum alıntısı
better-quoter
Bir forum gönderisindeki metni seçin ve yalnızca seçilen metinden alıntı yapmak için sağ alt köşedeki alıntıya tıklayın.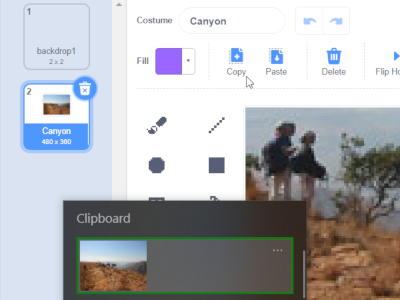 Bitmap resimleri kopyalama
bitmap-copy
Allows you to copy a bitmap image from the costume editor into the system clipboard, so that you can paste it in other websites or software.
Grab single block with Ctrl key
block-cherry-picking
Adds the ability to drag a single block out of the middle of a script (instead of the entire stack attached below it) while holding the Ctrl key.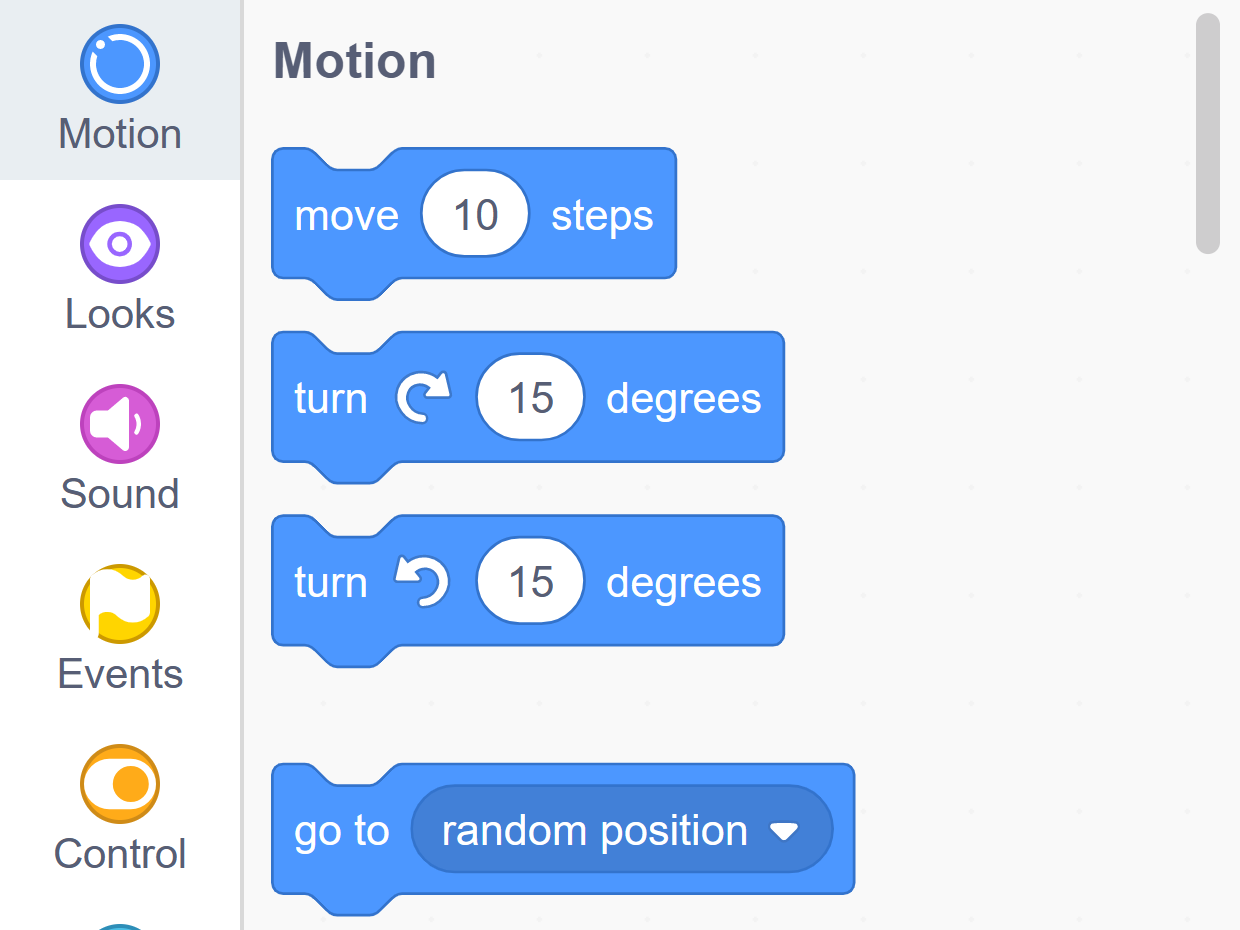 Blok paleti kategori simgeleri
block-palette-icons
Adds icons inside the colored circles that identify block categories.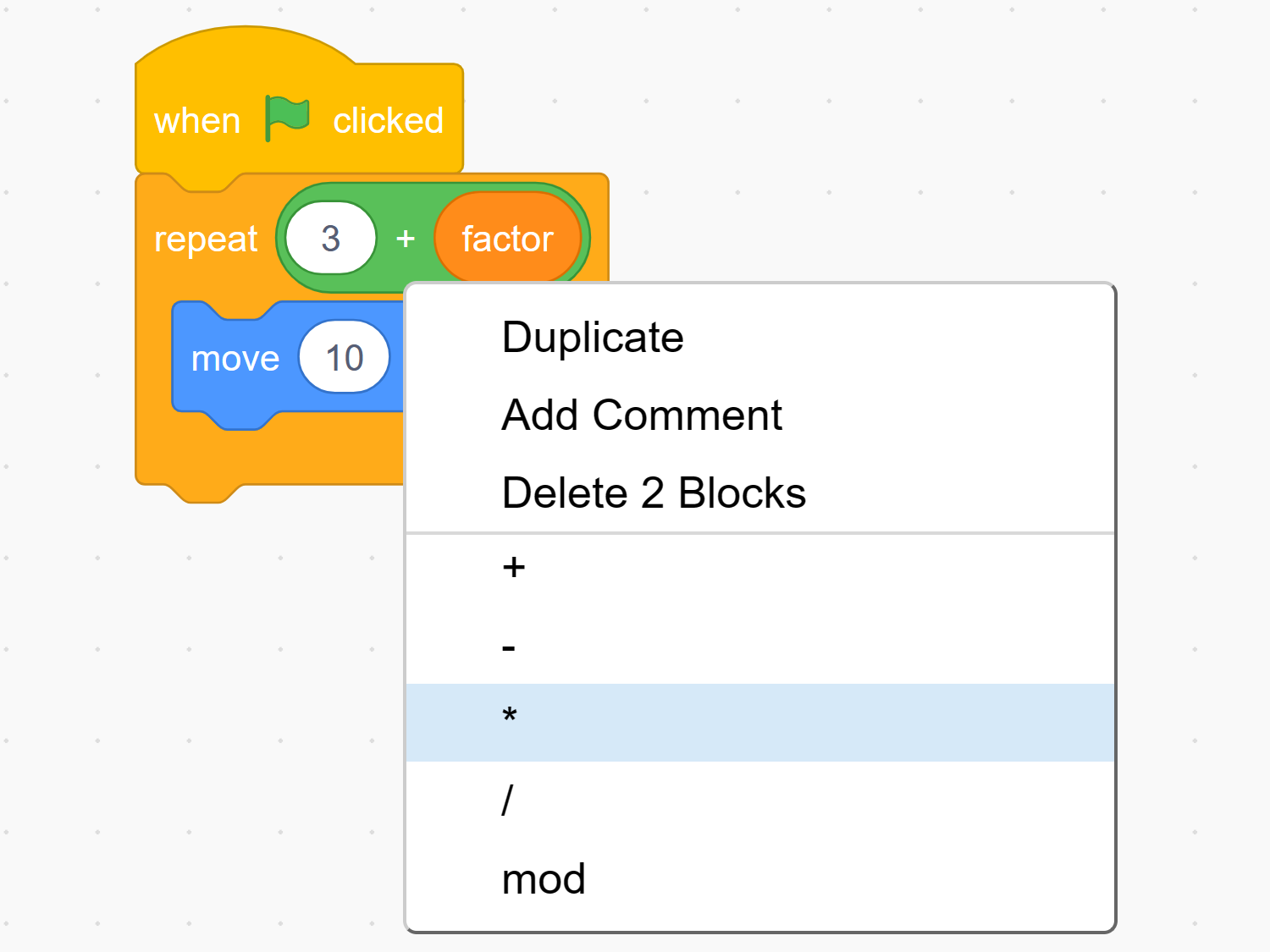 Blok Anahtarlama
⭐
block-switching
İlgili bloğa geçmek için bir bloğa sağ tıklayın.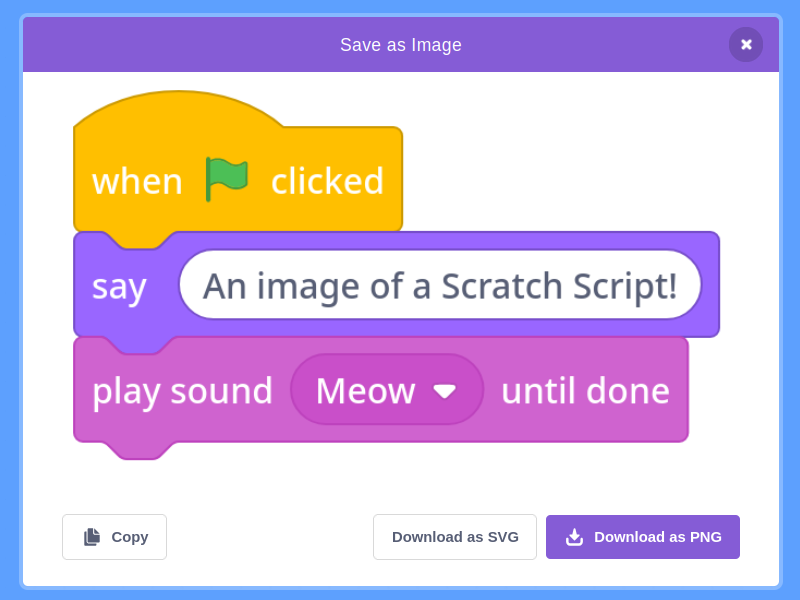 Blokları resim olarak kaydedin
blocks2image
Right click the code area to export blocks as SVG/PNG images.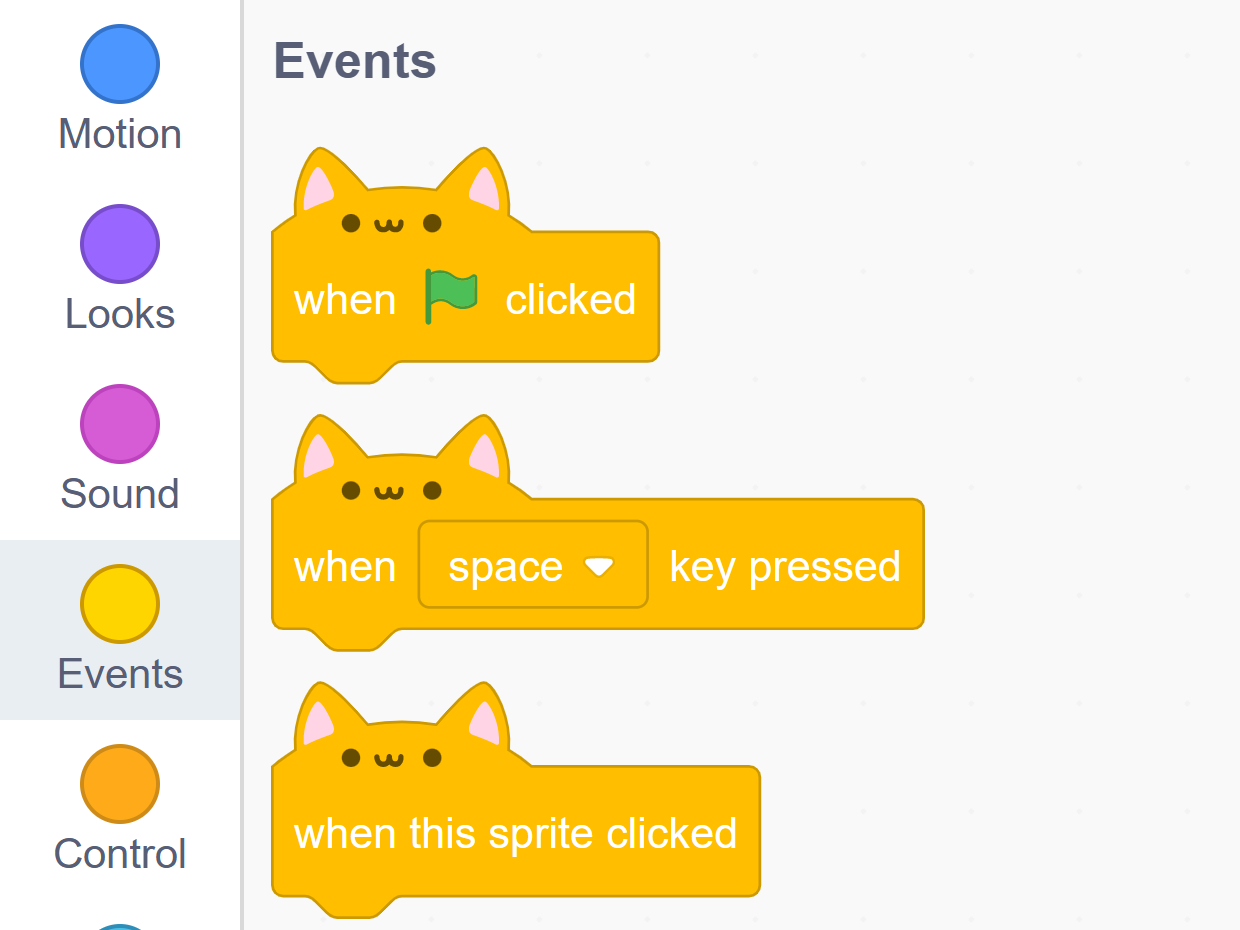 Kedi blokları
cat-blocks
Bir Mayıs Şaka Günü 2020'den kedi şapka bloklarını geri getirir.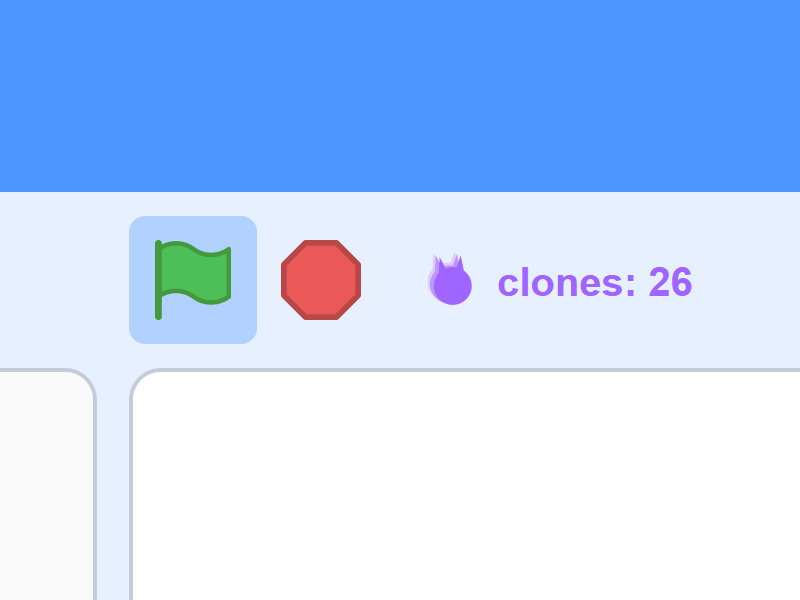 İkiz sayacı
⭐
clones
Adds a counter above the stage in the editor which shows the total amount of clones.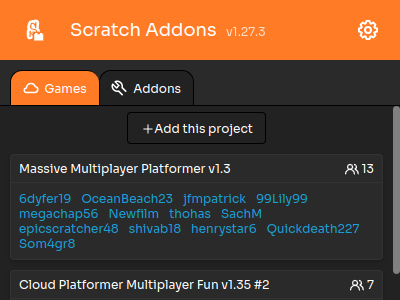 Bulut oyunları
⭐
cloud-games
Scratch Addons simgesine tıklandığında kullanılabilir. Şu anda çok oyunculu projelerde kaç Scratcher olduğunu ve kullanıcı adlarını gösterir.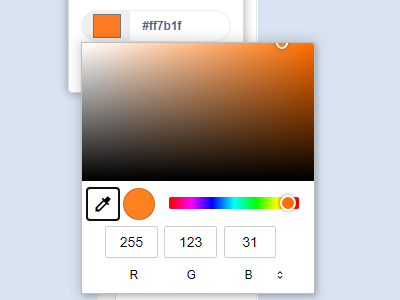 Hex rengi toplayıcısı
⭐
color-picker
Renk seçicilere onaltılık kod girişleri ekler.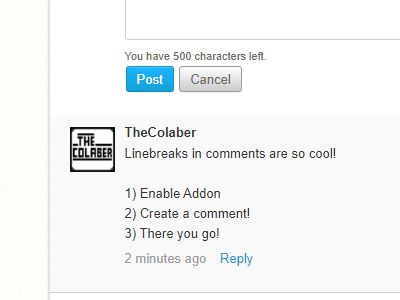 Line breaks in comments
comments-linebreaks
Makes line breaks (pressing Enter) in comments on the website visible instead of converting them to spaces.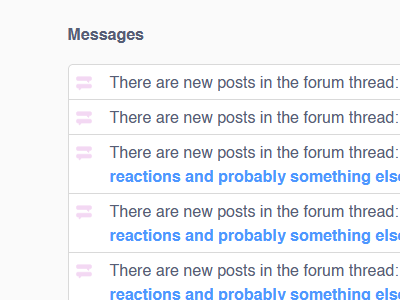 Compact messages
compact-messages
Makes Scratch's messages page more compact and easier to read.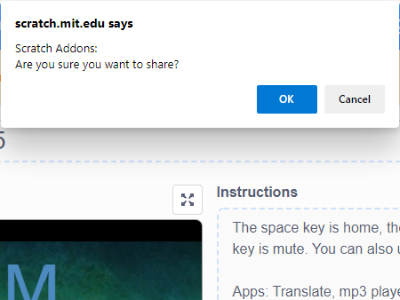 Confirmations
⭐
confirm-actions
Asks if you're sure when committing actions under your Scratch account, such as sharing projects.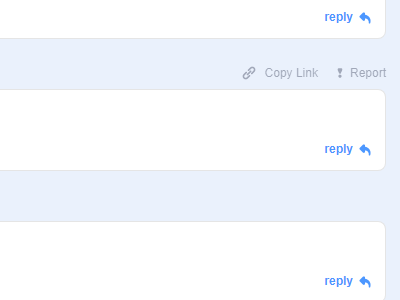 Yoruma bağlantıyı kopyala butonu
⭐
copy-message-link
İnternet sitesindeki tüm yorumlarda, "Şikayet Et" butonunun yanına bir "Bağlantıyı Kopyala" butonu ekler.
Kodları çalıştırmak için Ctrl+Tıkla
ctrl-click-run-scripts
Sadece eğer Ctrl tuşu da basılı tutuluyorsa blok dizilerini çalıştırın.
Göndermek için Ctrl+Enter
ctrl-enter-post
Ctrl+Enter tuşlarına basıldığında forum gönderisini veya yorumu otomatik olarak gönderir.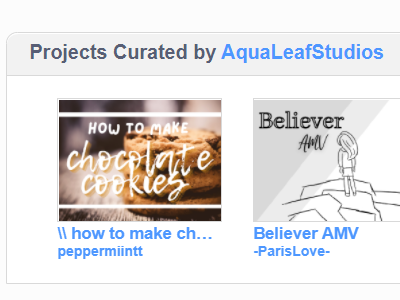 Front page curator link
curator-link
Makes the username of the front page curator a clickable link to their profile.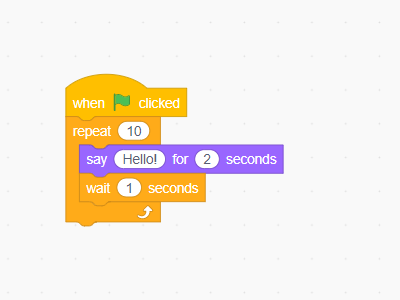 Customizable block shape
custom-block-shape
Adjust the padding, corner radius, and notch height of blocks.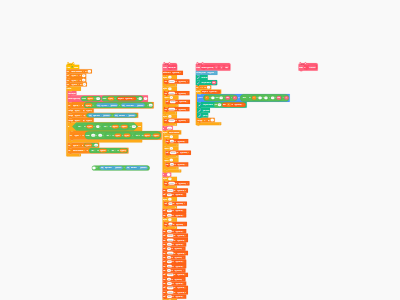 Customizable code area zoom
custom-zoom
Choose custom settings for the minimum, maximum, speed, and start size of the zoom of scripts in the code area, and autohide the controls.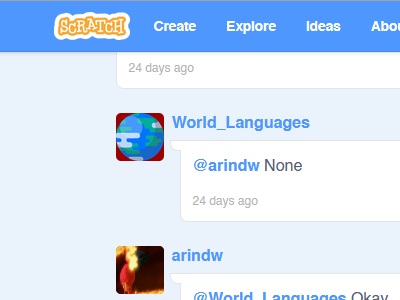 Özelleştirilebilir profil resmi çerçevesi
customize-avatar-border
Proje ve stüdyo yorumlarındaki profil resimlerinin etrafındaki çerçeveyi gizlemenize ya da değiştirmenize olanak tanır.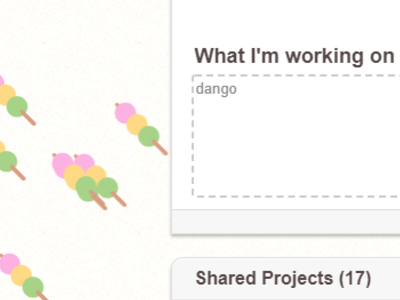 Profillerde Dango yağmuru (1 Nisan Şaka Günü)
🥚
dango-rain
"Hakkımda" kısmında "dango" kelimesini içeren kullanıcıların profillerinin yan kısımlarında yağan dango emojileri olacak.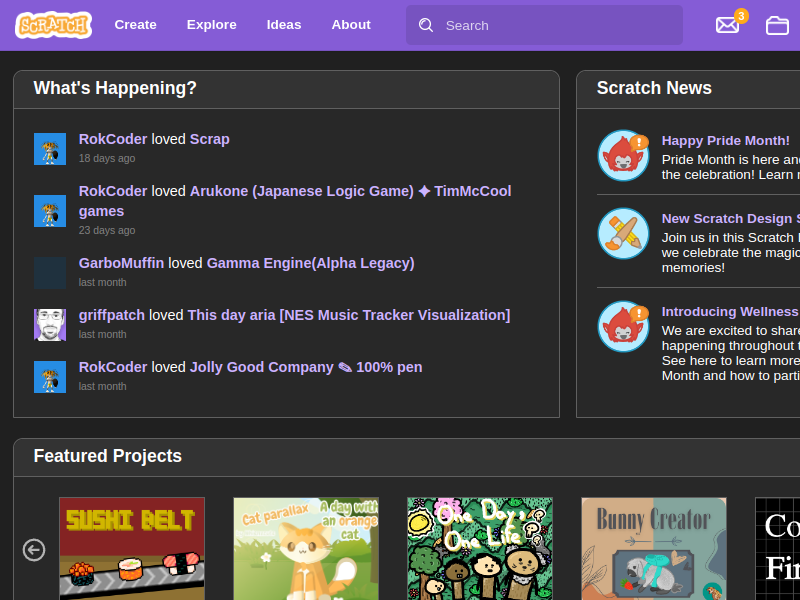 Website karanlık modu
dark-www
Scratch websitesi için karanlık mod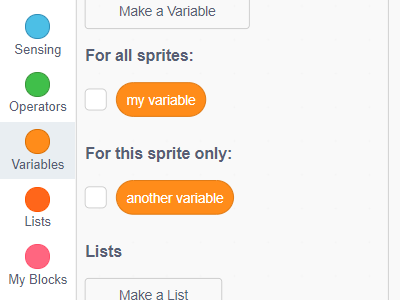 Veri kategorisi ince ayarları
⭐
data-category-tweaks-v2
Provides tweaks for the Data ("Variables") block category.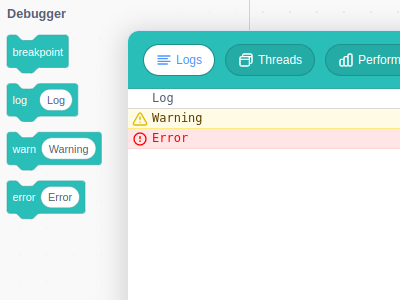 Hata Ayıklayıcısı
debugger
Düzenleyiciye yeni bir "hata ayıklayıcı" blok kategorisi ve bir "günlük" penceresi ekler. "günlük", "uyarı" ve "hata" blokları belirtilmiş mesajı günlük ekranına yazdıracaktır. "duraksatma" bloğu çalıştırıldığında projeyi durduracaktır.
Customizable default project
default-project
Change the default project from the Scratch Cat to any existing project.
Otomatik kaydetmeyi devre dışı bırak
disable-auto-save
Düzenleme sırasında projelerin otomatik olarak kaydedilmesini devre dışı bırakır.
Non-draggable sprites in editor
disable-stage-drag-select
Removes the ability to drag sprites around on the stage in the editor, except those explicitly set as draggable.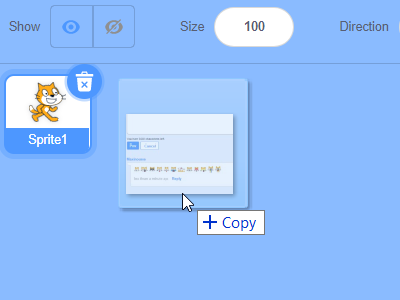 Dosya sürükle ve bırak
⭐
drag-drop
Lets you drag images and sounds from your file manager into the sprite pane or costume/sound list. You can also drag text files into lists or "ask and wait" question inputs.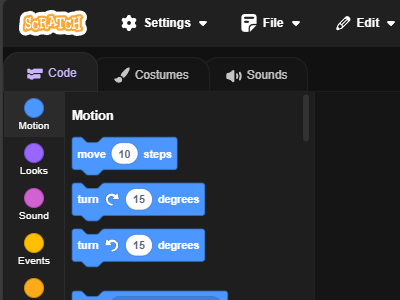 Editör karanlık modu ve özelleştirilebilir renkler
editor-dark-mode
Proje düzenleyicide olan renkleri düzenleyin. Birden fazla karanlık mod seçeneği vardır. Eğer karanlık mod istemiyorsanız, önceden belirlenmiş, "Scratch'in varsayılan renkleri"'ni düzenleyebilirsiniz.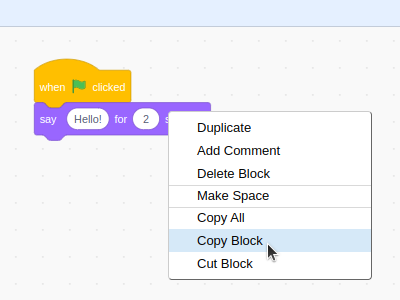 Geliştirici araçları
⭐
editor-devtools
Adds a find box and new menu options to the editor: copy/paste blocks, better clean up, go to custom block definition, and more!
Extra key support
editor-extra-keys
Adds more keys to the "key () pressed?" block dropdown, such as enter, dot, comma, and more.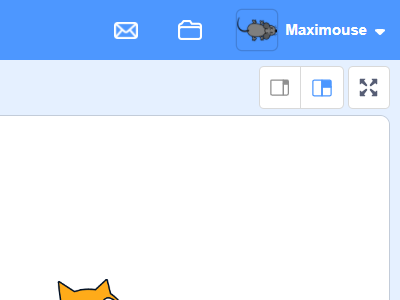 Mesajlar editörü
⭐
editor-messages
Displays your message count in the editor menu bar.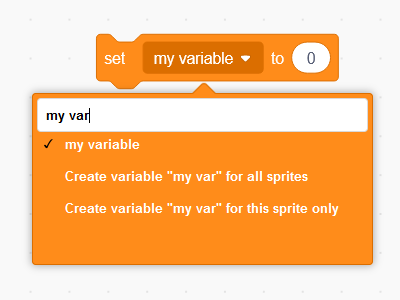 Aranabilen açılır listeler
⭐
editor-searchable-dropdowns
Blok listelerini aramanıza olanak sağlar.
Editör ses efektleri
editor-sounds
Blokları bağladığınızda veya sildiğinizde ses efektleri çalar.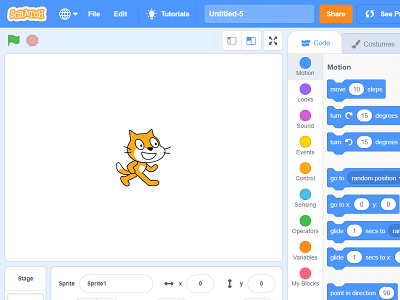 Sahne ekranın solunda
editor-stage-left
Sahneyi editörün sol tarafına taşır.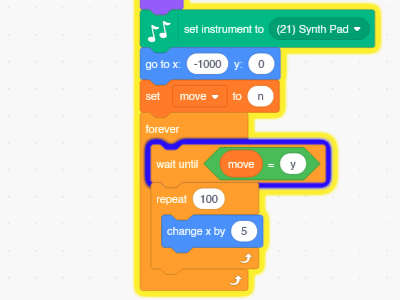 Şu anda çalışan blokları vurgulayın
editor-stepping
Adds a colored highlight to the blocks that are currently being executed in a project.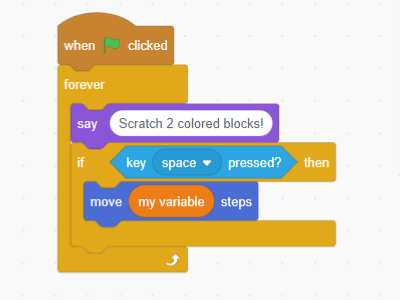 Özelleştirilebilen blok renkleri
editor-theme3
Düzenleyicideki her kategori için blok renklerini düzenleyin.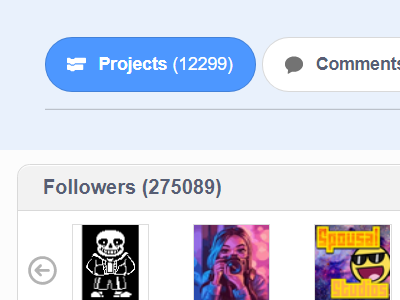 Tam sayıyı göster
⭐
exact-count
Kullanıcı ve stüdyo bilgilerinin tam sayısını gösterir. Forum bilgileri için ScratchDB kullanır.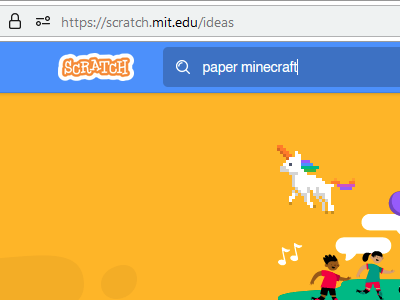 Genişletilebilir arama çubuğu
expanding-search-bar
Makes the search bar in the navigation bar wider when it's focused.
Otomatik olarak kopyalanmış blokları çalıştırmayın.
⭐
fix-pasted-scripts
Fixes a bug in the Scratch editor, where duplicating a block and attaching it to a script causes the script to run.
Bozuk SVG yüklemelerini düzeltin
fix-uploaded-svgs
Scratch düzenleyicide Affinity Designer gibi bazı görüntü düzenleyicilerle oluşturulmuş SVG dosyalarını düzgün şekilde yüklemeyen bir hatayı düzeltir.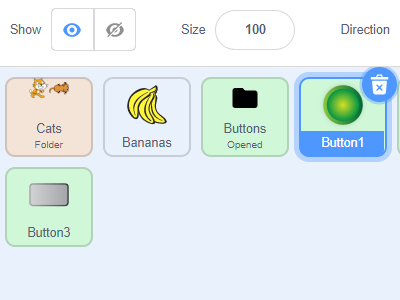 Kukla klasörleri
⭐
folders
Adds folders to the sprite pane, as well as costume and sound lists. To create a folder, right click any sprite and click "create folder". Click a folder to open or close it. Right click a sprite to see what folders you can move it to, or alternatively drag and drop it into an open folder.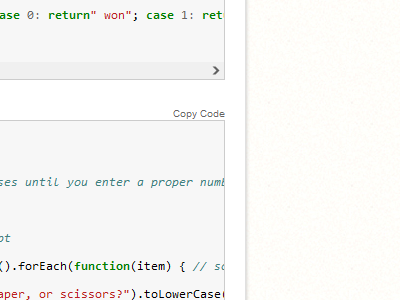 Copy code button on forums
forum-copy-code
Adds a "copy code" button above code boxes in forum posts that copies the contents into the clipboard.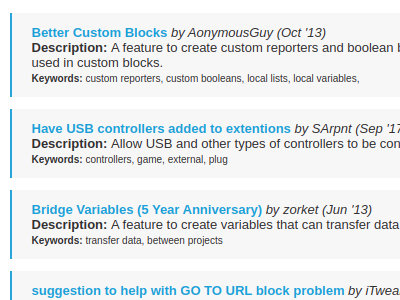 Customizable quotes and code blocks on forums
forum-quote-code-beautifier
Forumlarda daha güzel kod ve alıntı blokları gösterir.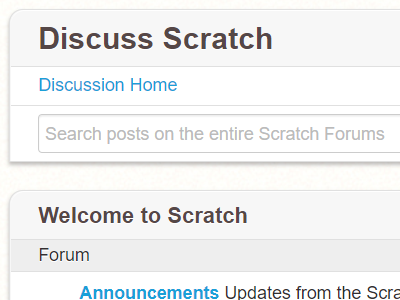 Forum araması
forum-search
Adds a post search bar to the forums. Uses ScratchDB for information.
Local timezone on forums
forum-time-zones
Uses your local time zone for displaying post dates and times on the forums.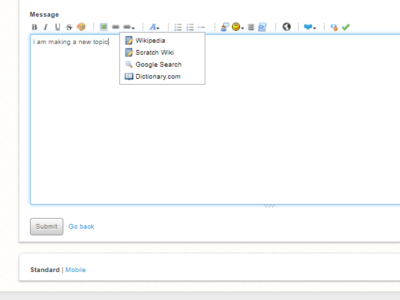 More forum toolbar buttons
forum-toolbar
Adds buttons in the forum editing toolbar to insert BBCode tags, such as [center] or [color].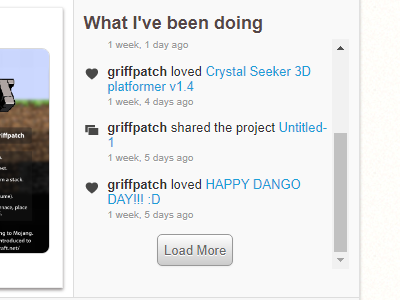 Full areas
⭐
full-signature
Shows the full content of areas with limited height, such as user signatures on the forums and What I've been doing on profiles, by making them resizable or scrollable.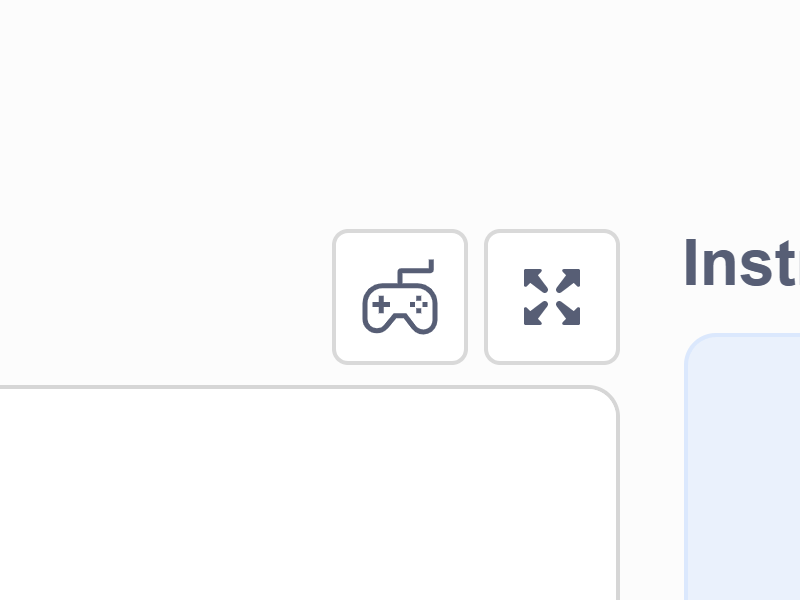 Oyun kumandası desteği
gamepad
Interact with projects using a USB or Bluetooth controller/gamepad.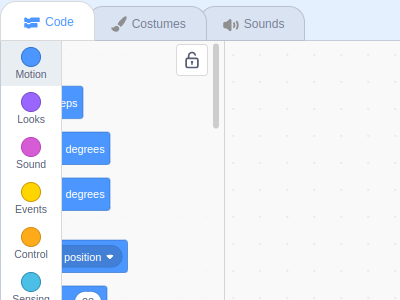 Auto-hiding block palette
⭐
hide-flyout
Hides the block palette if not hovered. Click the lock icon to lock it in place temporarily. Alternatively, use "category click" mode.
Hide new variables
hide-new-variables
Do not automatically create monitors for newly created variables or lists.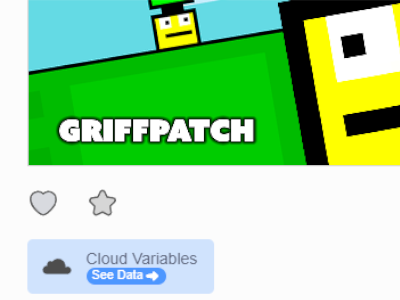 Proje istatistiklerini gizle
hide-project-stats
Lets you hide love, favorite, remix and view counts in the front page and project pages.
Forum resim yükleyicisi
image-uploader
Adds a button to directly upload and insert images into forum posts.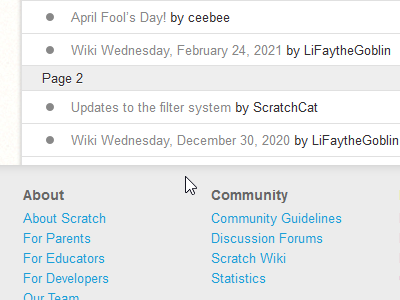 Sonsuz kaydırma
infinite-scroll
"Daha fazla yüklemek" için tıklamak zorunda kalmadan sitenin farklı bölümlerinde kaydırmaya izin verin.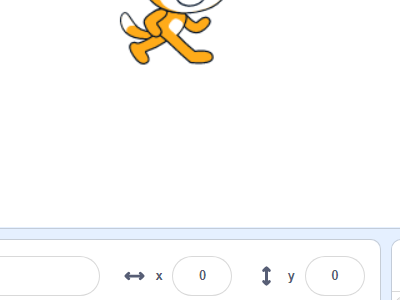 Customizable new sprite position
initialise-sprite-position
Change the default x/y position of new sprites.
More items per row
items-per-row
Lets you change the number of items displayed in a single row in a grid of projects, studios, or users.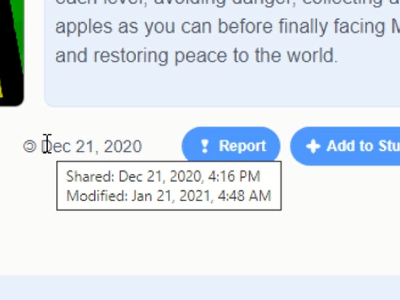 Shared/edited dates tooltip
last-edit-tooltip
Hover over a project's share date for information on when exactly it was shared and last edited.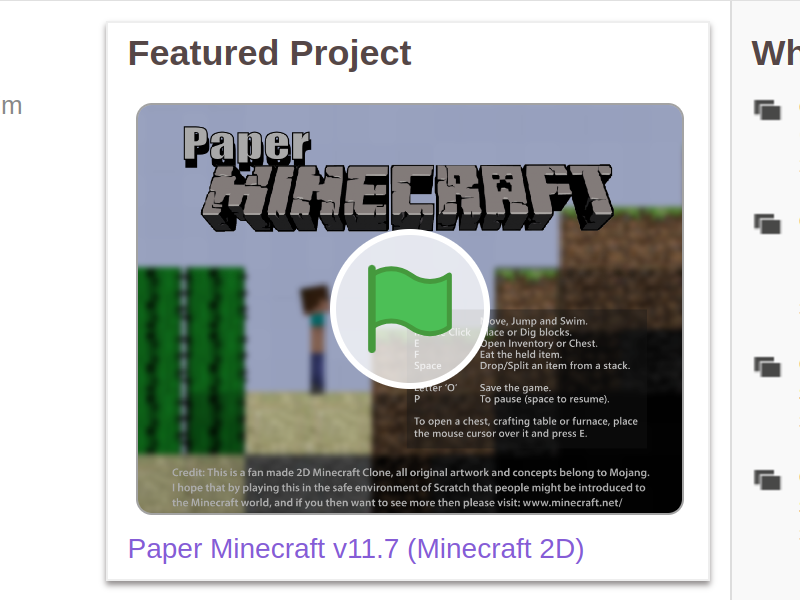 Öne çıkan projeyi canlı yap
live-featured-project
Shows an interactive featured project, directly from the user's profile. Based on the implementation in Mega Scratch Userscript.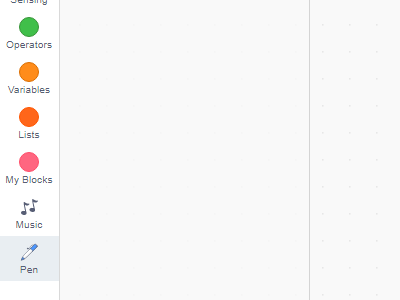 Eklentileri otomatik olarak ekle
load-extensions
Auto-shows music, pen, and other extensions in the block category menu in the editor.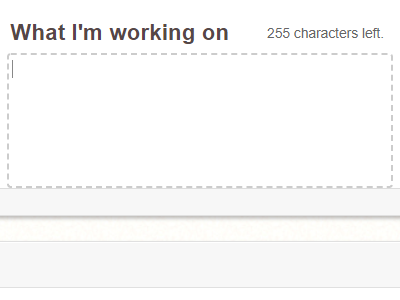 Higher character limit in "What I'm Working On"
longer-wiwo
Allows you to type 55 more characters in your profile's "What I'm Working On". Everyone on Scratch will see the extra characters.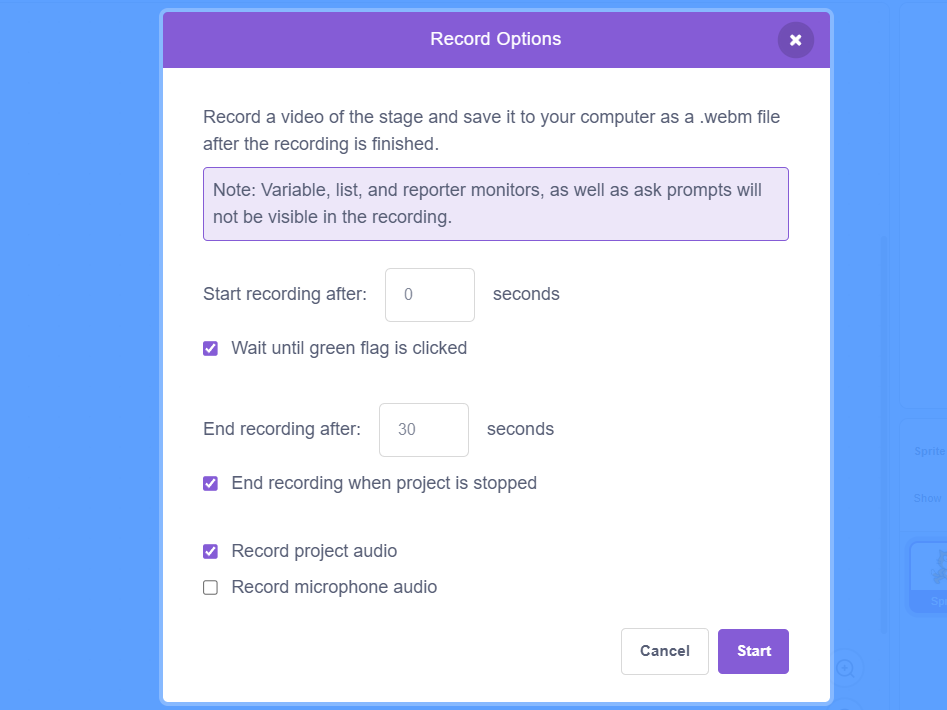 Project video recorder
⭐
mediarecorder
Adds a "start recording" button to the editor menu bar that allows you to record the project's stage.
Mesaj filtreleri
message-filters
Lets you select filters for types of messages to hide or show on Scratch's messages page.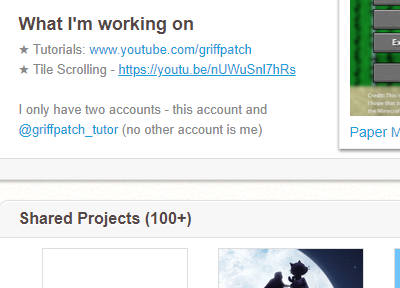 Daha Fazla Bağlantı
more-links
Scratch.mit.edu dışını gösteren URL'ler için bağlantılar ekler.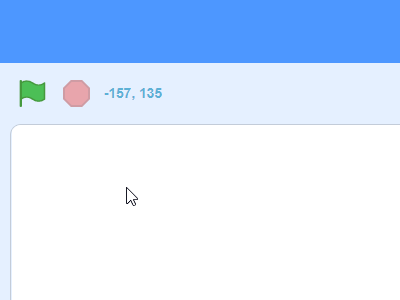 Fare Konumu
⭐
mouse-pos
Displays your mouse x/y position above the stage in the editor.
Move costume to top or bottom
move-to-top-bottom
Adds a right click context menu item to move a costume or a sound to the top or the bottom of the list. Previously part of the developer tools.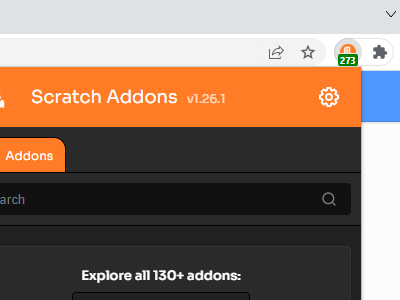 Eklenti simgesindeki mesaj sayımı
⭐
msg-count-badge
Scratch Addons simgesine mevcut mesaj sayısını ekler.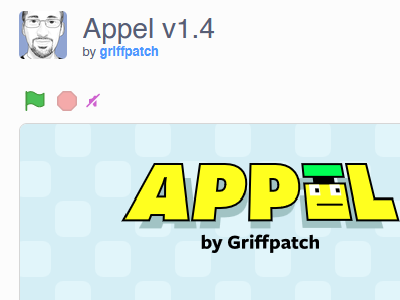 Muted project player mode
⭐
mute-project
Projeyi susturmak/susturmayı kaldırmak için yeşil bayrağa ctrl ile tıklayın.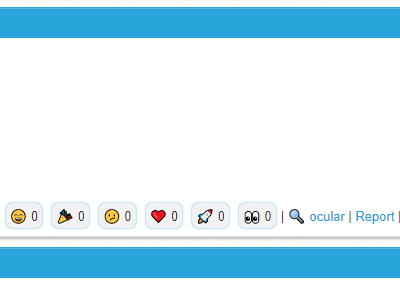 ocular integration
my-ocular
Shows ocular statuses and forum post reactions. Uses my-ocular.jeffalo.net to obtain data.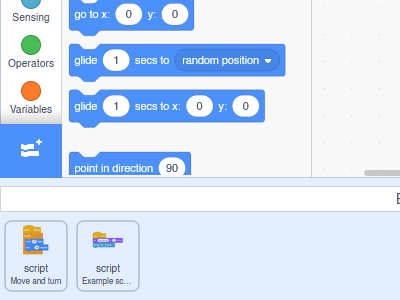 Kodları sırt çantasına koymadan önce adlandır
name-backpack-items
Asks you to name scripts after you drag them into the backpack, instead of using the default name "code".
Do not automatically space overlapping scripts
no-script-bumping
Allows scripts to be moved and modified without causing overlapping scripts to move around.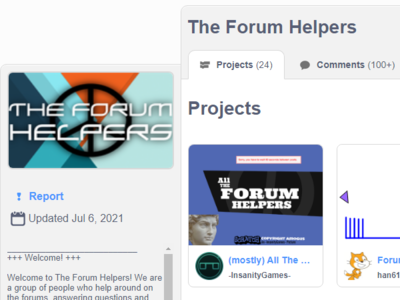 Eski stüdyo düzeni
old-studio-layout
Stüdyoların düzenini Stüdyo Güncellemesi'nden önceki haline, yani eskiden Scratch 2.0 → Scratch 3.0 eklentisinde kullanılan haline geri getirir.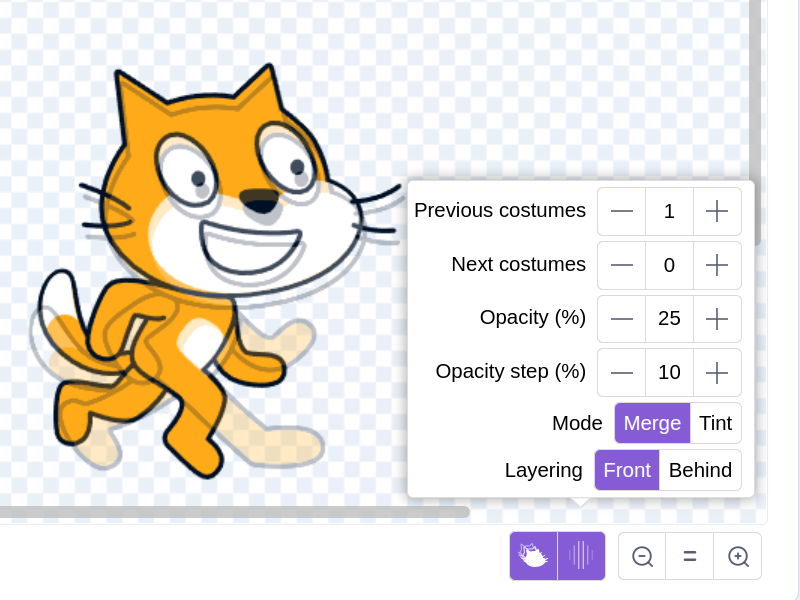 Önceki kostümün izi
⭐
onion-skinning
Shows transparent overlays of previous or next costumes when editing a costume. Controlled by buttons under the costume editor by the zoom buttons.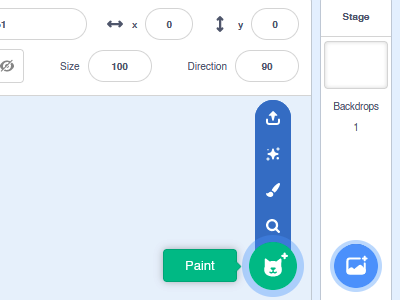 Paint costume by default
⭐
paint-by-default
Changes the default action of "Choose a Sprite/Costume/Backdrop/Sound" buttons, which open the library by default.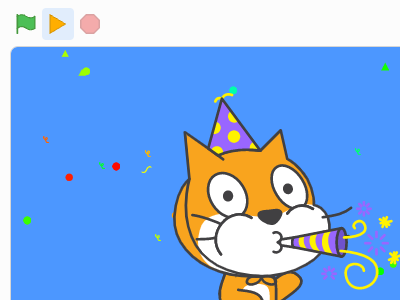 Duraklat butonu
⭐
pause
Yeşil bayrağın yanına bir duraklat düğmesi ekler.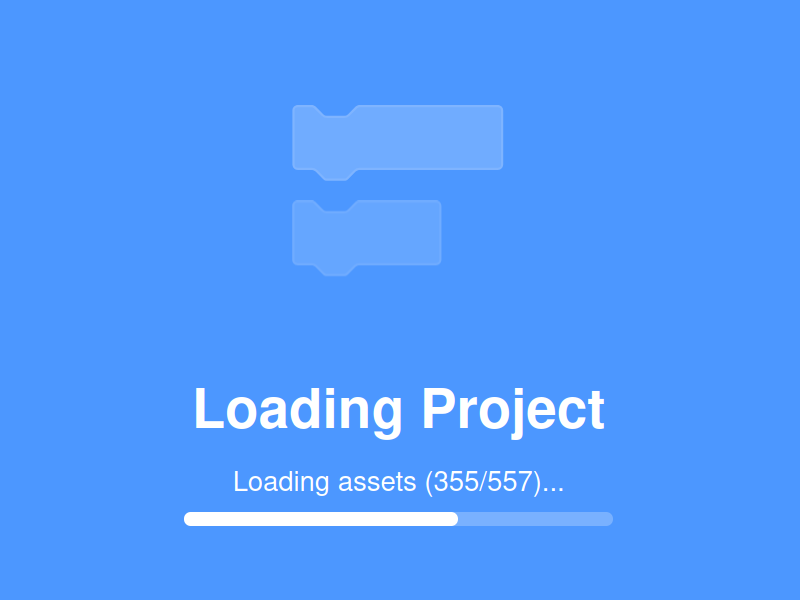 Proje ilerleme çubuğu
⭐
progress-bar
Projeleri yüklemek ve kaydetmek için bir ilerleme çubuğu ekler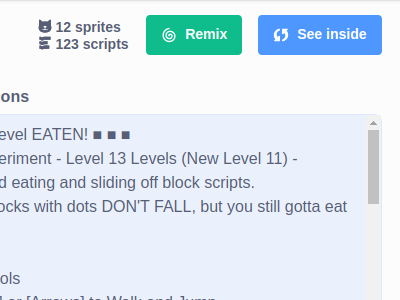 Kukla ve komut miktarı
project-info
Shows the number of sprites and scripts a project has next to the Remix button.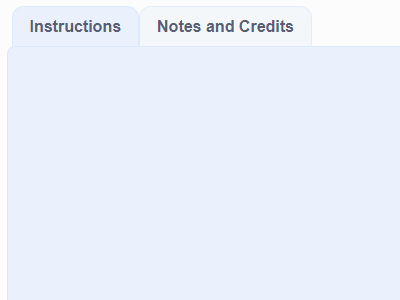 Proje notları
project-notes-tabs
Bir proje sayfasında "Talimatlar" bölümü ve "Notlar ve Krediler" bölümü için sekmeler oluşturur.
Mobil forumları ana forumlara yönlendirme
redirect-mobile-forums
Sizi "/discuss/m/"'den "/discuss/"'a yönlendirir.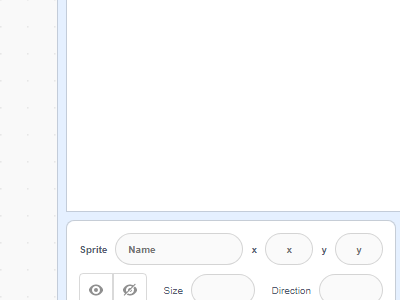 Bozuk sahne sınırını siler
remove-curved-stage-border
Sahnenin etrafındaki kavisli kenarlığı kaldırır, böylelikle köşeleri görmenize izin verir.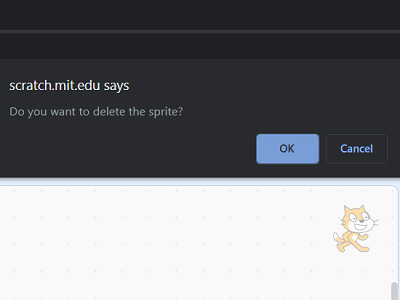 Sprite deletion confirmation
⭐
remove-sprite-confirm
Bir projenin içindeki kuklayı silerken emin olup olmadığını sorar.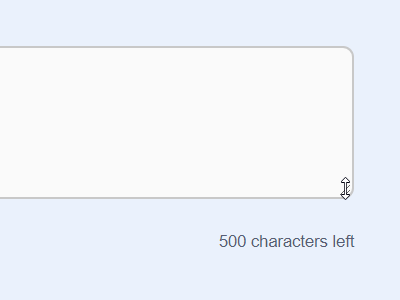 Yeniden boyutlandırılabilen yorum girişi
⭐
resizable-comment-input
Scratch 3.0 stilindeki sayfalarda yorum giriş kutusunu dikey olarak yeniden boyutlandırılabilir hale getirir.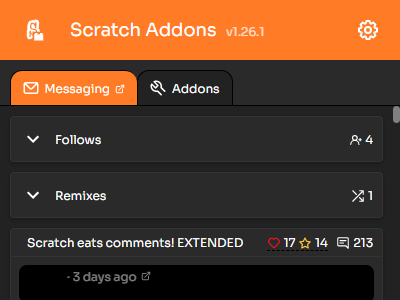 Scratch mesajlama
⭐
scratch-messaging
Scratch Addons simgesine tıklandığında kullanılabilir. Scratch mesajlarınızı kolay okuma ve yanıtlama sağlar: mesajları projeye göre gruplandırır, tam yorum metnini ve bağlamı gösterir, doğrudan yorum yanıtlamaya izin verir.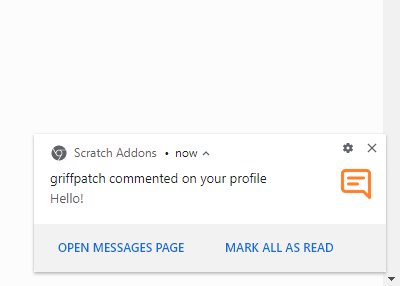 Scratch Bildirimi
⭐
scratch-notifier
Yeni Scratch mesajlarıyla ilgili bildirimler. Doğrudan mesaja (yorum, proje vb.) Gitmek için bildirime tıklayın.
Forumlarda 3.0 Scratchblocks
scratchblocks
Forumlarda scratchblocks'un yeni sürümünü etkinleştirir.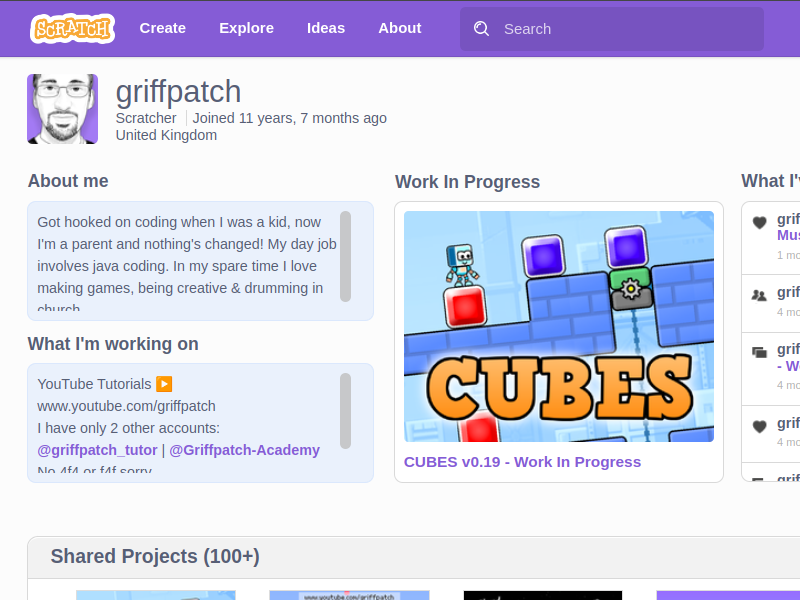 Scratch 2.0 → 3.0
⭐
scratchr2
Scratch 2.0 stilindeki sayfaların Scratch 3.0 gibi görünmesini sağlar.
Profil istatistikleri
scratchstats
Kullanıcı profillerinde ScratchDB'den alınan istatistikleri gösterir.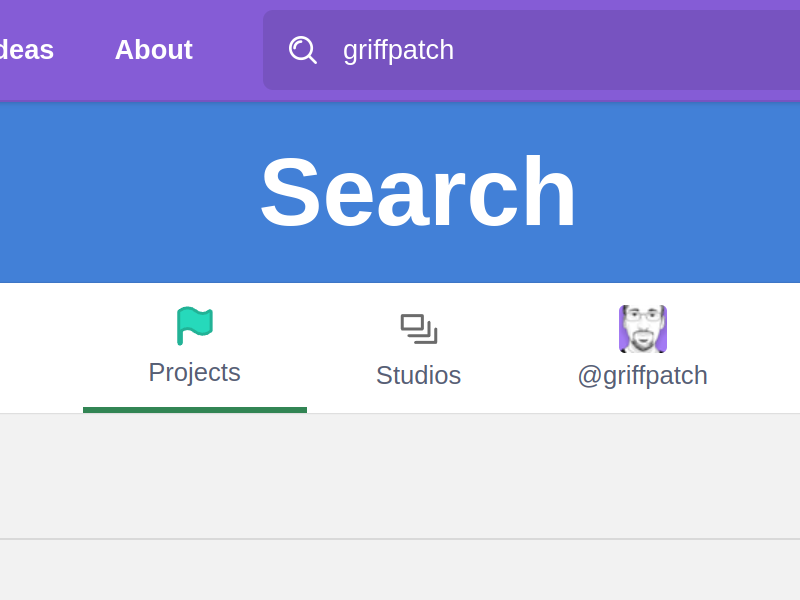 Profil Ara
⭐
search-profile
Kullanıcı adını aradığınızda bir kullanıcının profiline gitmenizi sağlar.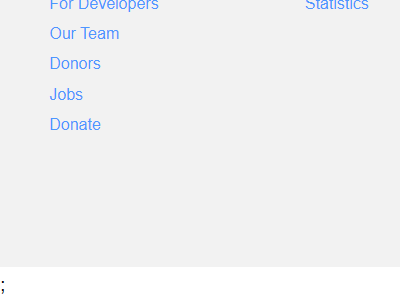 Noktalı virgül hatası
🥚
semicolon
Noktalı virgül hatasını Scratch'e geri ekler.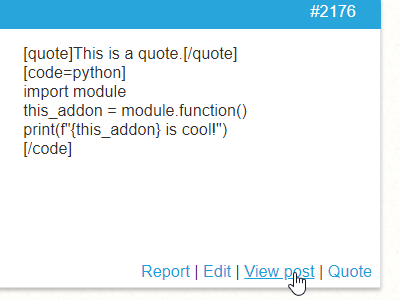 BBCode kaynak butonu
show-bbcode
Forumlara bir gönderinin BBCode kaynağını gösteren bir buton ekler.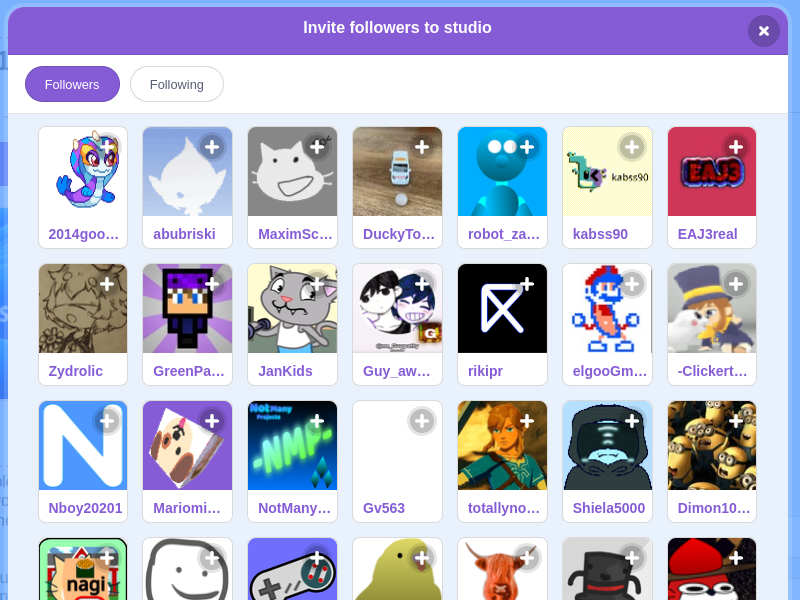 Stüdyolarda takipçilere göz at düğmesi
studio-followers
Adds a button at the top of the "curators" tab in studios you manage, that lists your followers and followed users and lets you invite a shown user with a single click.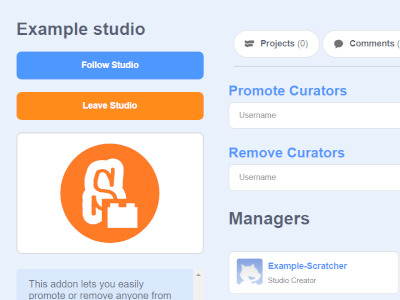 Studio tools
⭐
studio-tools
Lets managers easily promote curators to managers or remove anyone from a studio on the "curators" tab, and adds the ability to leave a studio using a button under "Follow Studio".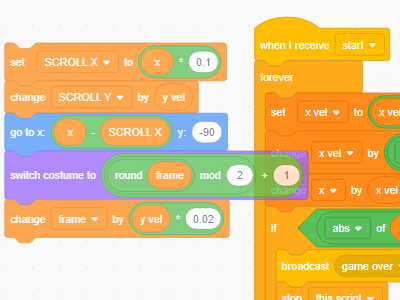 Blok saydamlığı
transparent-orphans
Adjust the transparency for blocks in the editor, with separate options for orphaned blocks (those without a hat block at the top) and blocks that are being dragged.
Gerçek forum youtube linkleri
true-youtube-links
Gömülü siteye giden bağlantıları gerçek YouTube bağlantılarıyla değiştirir.
TurboWarp butonu
turbowarp-player
Projeyi TurboWarp.org'ta oynatmak için, proje sayfalarında Katkı Yap butonunun yanına bir buton ekler.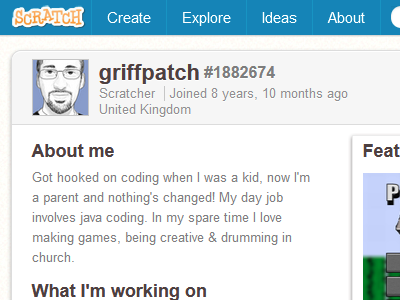 Show user IDs
user-id
Profil sayfalarının üstündeki kullanıcı adının yanına kullanıcı kimliğini ekler.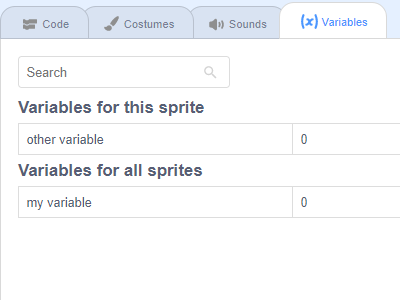 Değişken Yöneticisi
variable-manager
Editörde "sesler" sekmesinin yanına değişken ve listelerinizi kolaylıkla güncelleyebileceğiniz bir sekme ekler.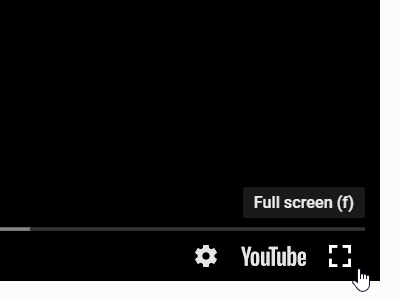 YouTube tam ekran
youtube-fullscreen
Scratch'in YouTube video oynatıcısında tam ekran butonunu etkinleştirir.