All in one browser extension for Scratch
Scratch Eklentileri Scratch websitesi ve proje editörü için yeni özellikler ve temalar sağlayan bir tarayıcı eklentisidir. Misyonu; Scratch topluluğunun birçok üyesi tarafından geliştirilen kullanıcı temalarını ve kullanıcı kodlarını toplamak, arşivlemek ve kullanıma sokmaktır.
Özellikler
Eklentiler
Scratch Addons consists of addons, which are features that can empower your Scratch website and editor experience.
Özelleştirilebilir
Scratch Addons has an easy-to-use interface to control various settings of each feature and theme.
Uluslararası
Not just English. Scratch Addons is available in Spanish, Russian, Japanese, French, and many more.
Open source
Scratch Addons is free, open source, and built by a community of Scratchers.
Highlights
Remember, these are just the highlights. There's more!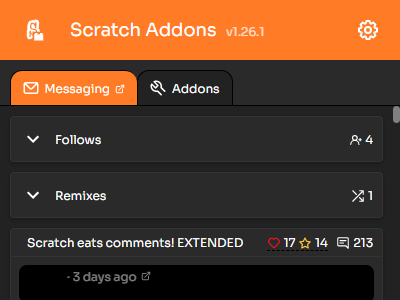 Scratch Messaging
The "grandfather" of Scratch Addons. It is available when clicking the Scratch Addons icon, and provides easy reading and replying to your Scratch messages: groups messages by project, shows full comment text and context, allows direct comment replying.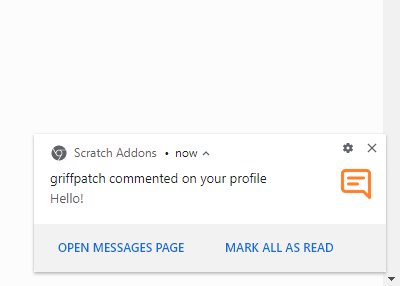 Scratch Notifier
It adds browser notifications on new Scratch messages. You can click the notification to go straight to the message (comment, project, etc.)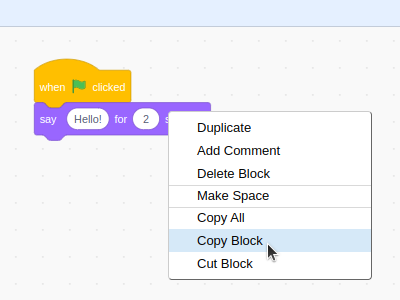 Developer tools
From the original extension. It adds a find box and new menu options to the editor: copy/paste blocks, better tidy up, go to custom block definition, and more!