Addons
This page lists all of the addons that are implemented on Scratch Addons.
This page is incomplete, and we need your help to complete the images. Read more here.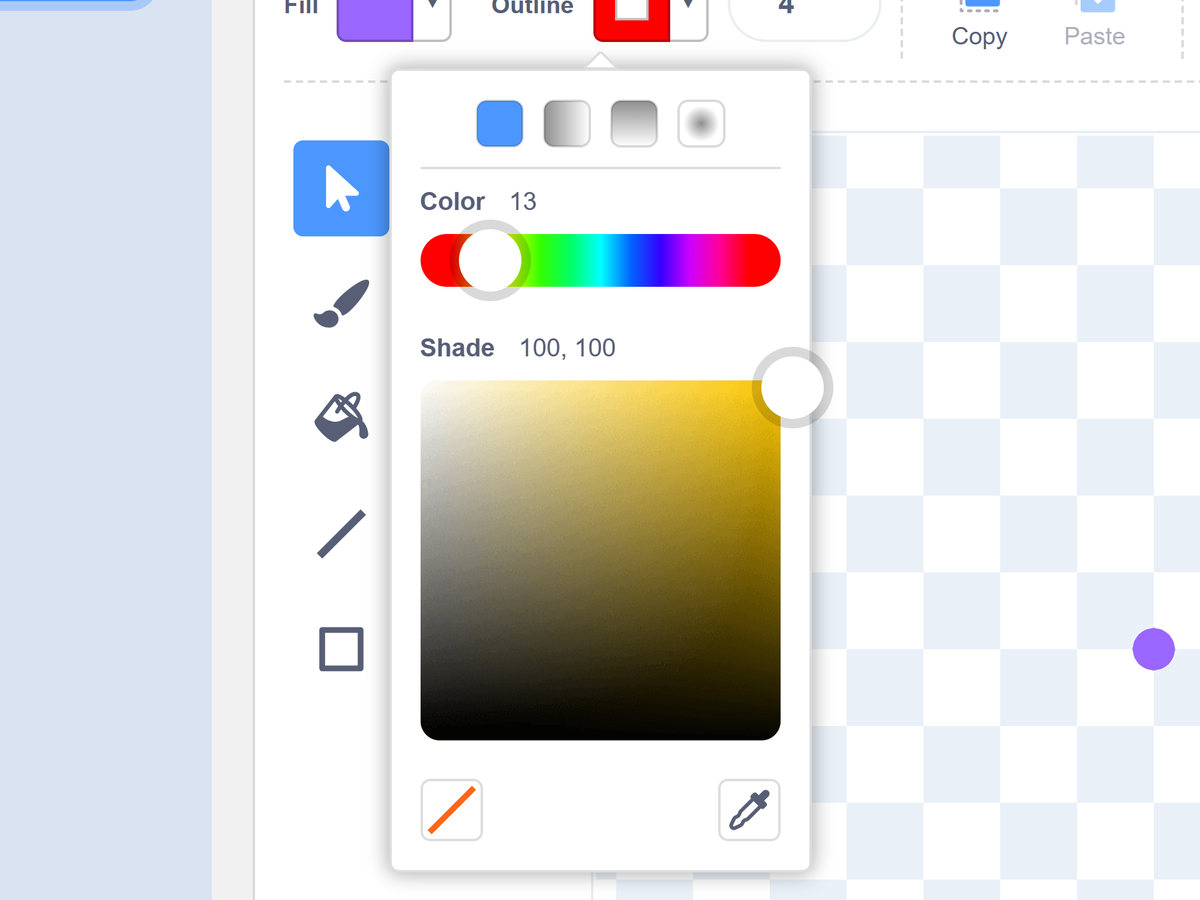 2D color picker
2d-color-picker
Replaces saturation and brightness sliders with a 2D color picker. Hold Shift while dragging the cursor to change the values on a single axis.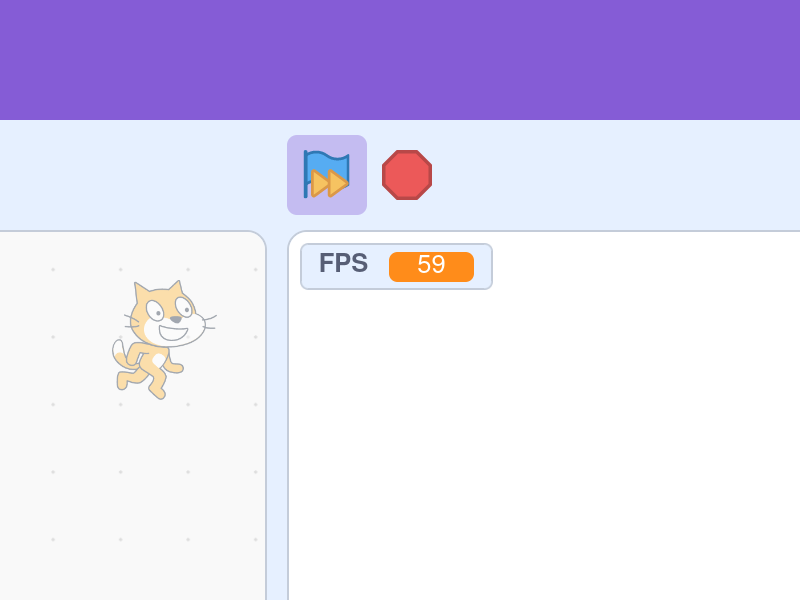 Alt+GreenFlag 60FPS player mode
⭐
60fps
Alt+Click the green flag to toggle 60FPS.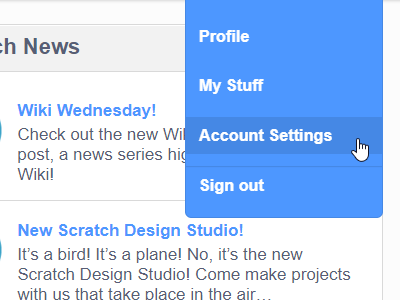 Fix capitalization of Account Settings
🥚
account-settings-capitalize
Changes "Account settings" in the account menu to "Account Settings".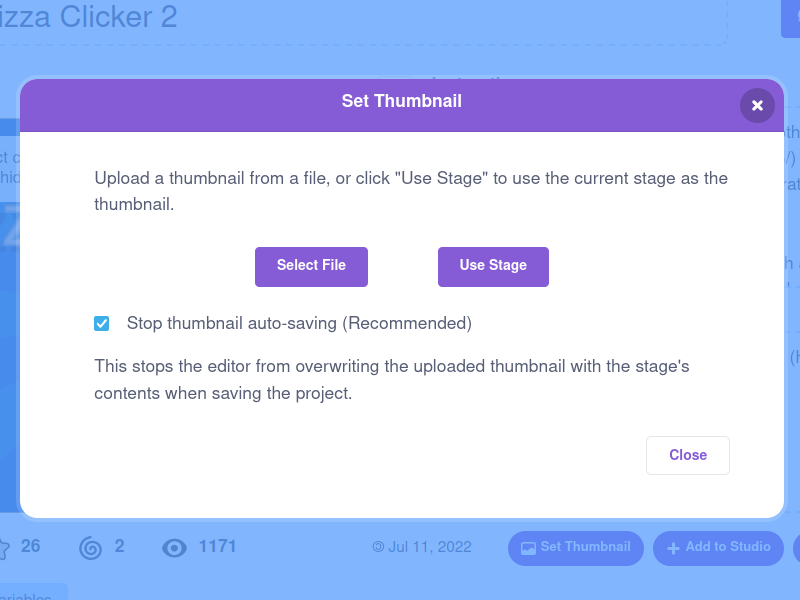 Thumbnails setter
⭐
animated-thumb
Adds a button to the editor to set the thumbnail of your project to any image (including gifs).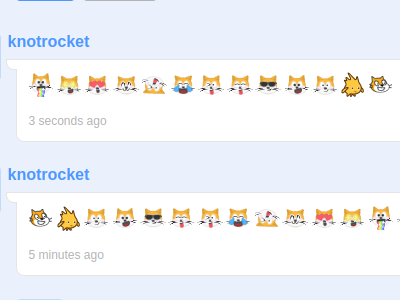 Better emojis
better-emojis
Replaces the cat emojis in Scratch comments with improved vector designs.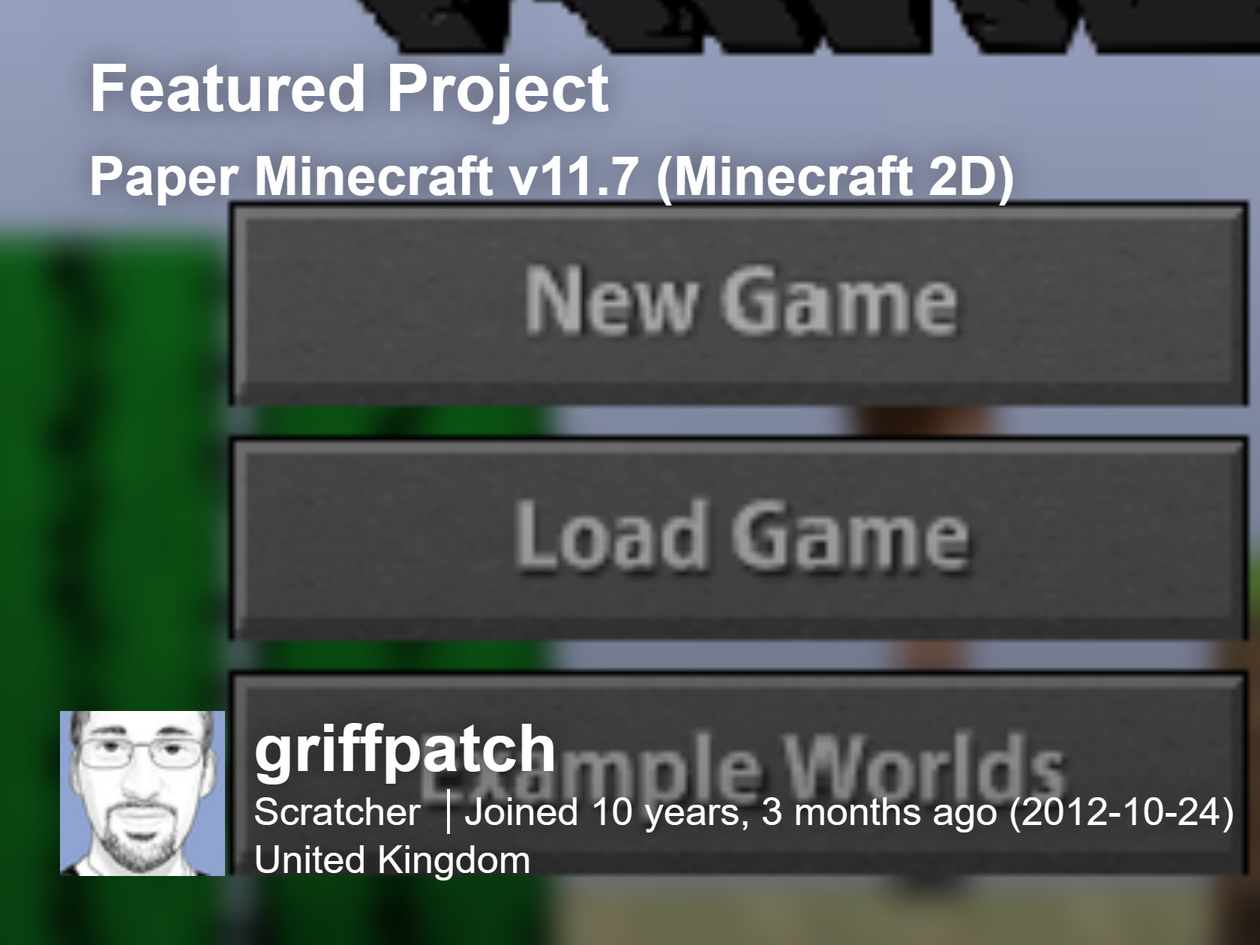 Profile page banner
⭐
better-featured-project
Makes the featured project on any user's profile page into a nice-looking banner.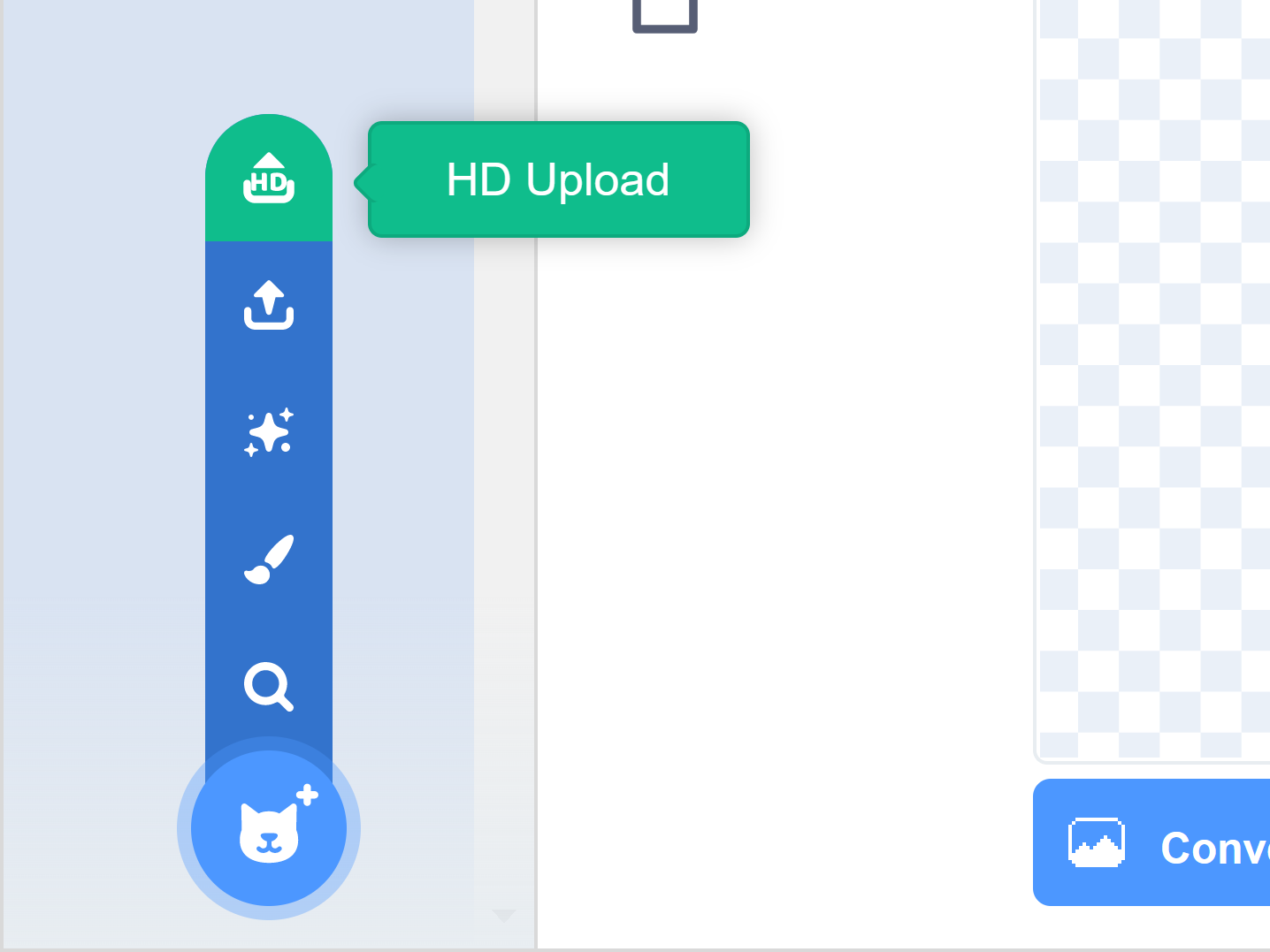 HD image uploads
better-img-uploads
Adds a new button above the "upload costume" button that automatically converts uploaded bitmap images into SVG (vector) images to avoid losing quality.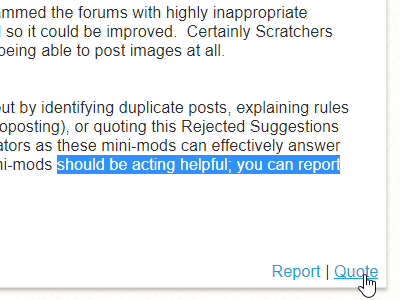 Better forum quoter
better-quoter
Select text in a forum post and click quote in the bottom right corner to only quote the select text.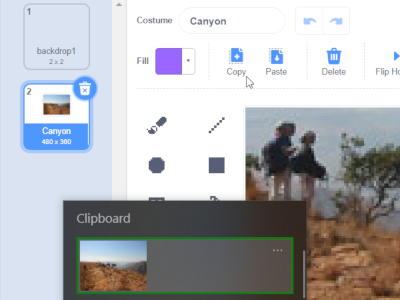 Bitmap images copying
bitmap-copy
Allows you to actually copy a bitmap image from the paint editor, so that you can paste it in other websites or software.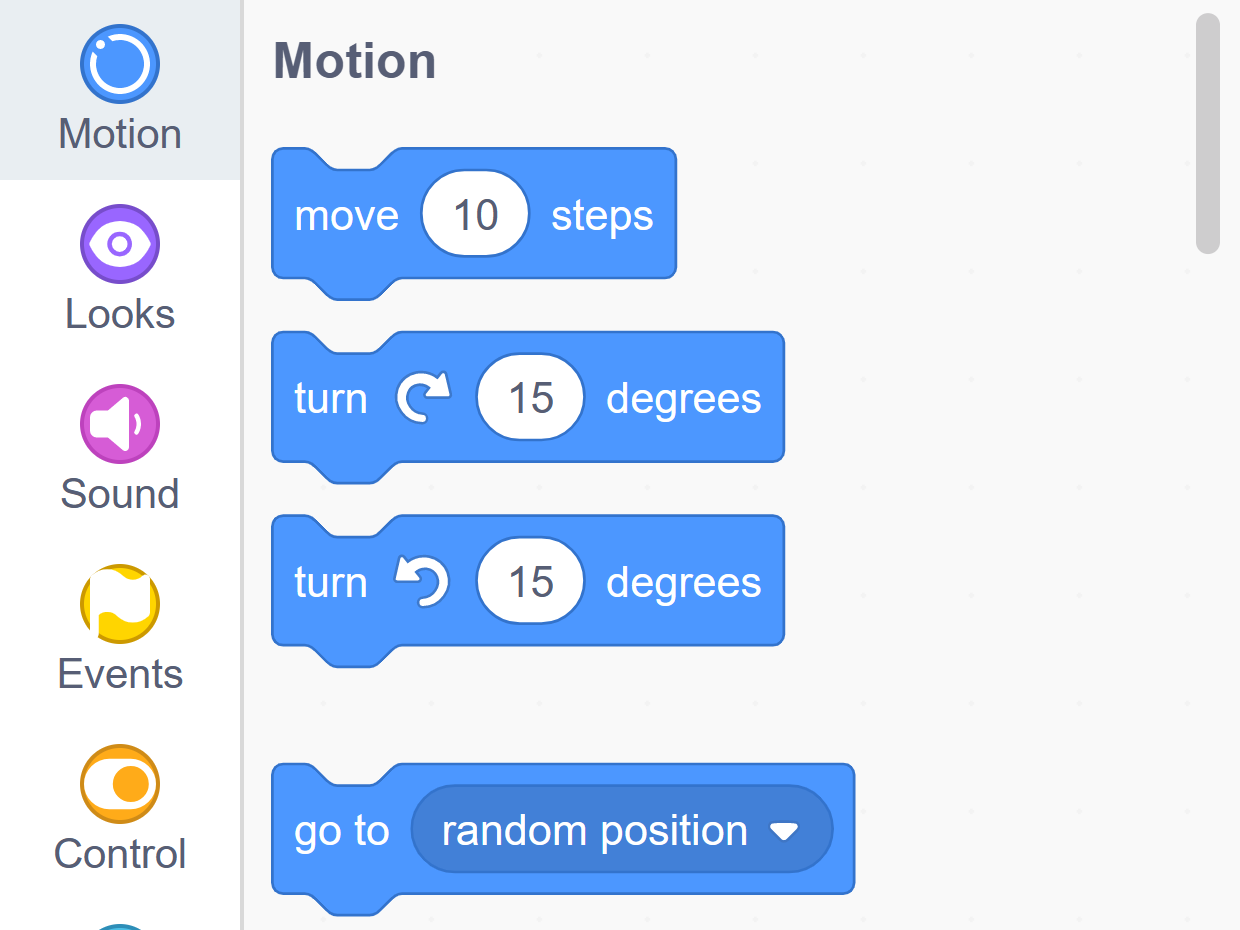 Block palette category icons
block-palette-icons
Adds icons inside the colored circles that identify block categories.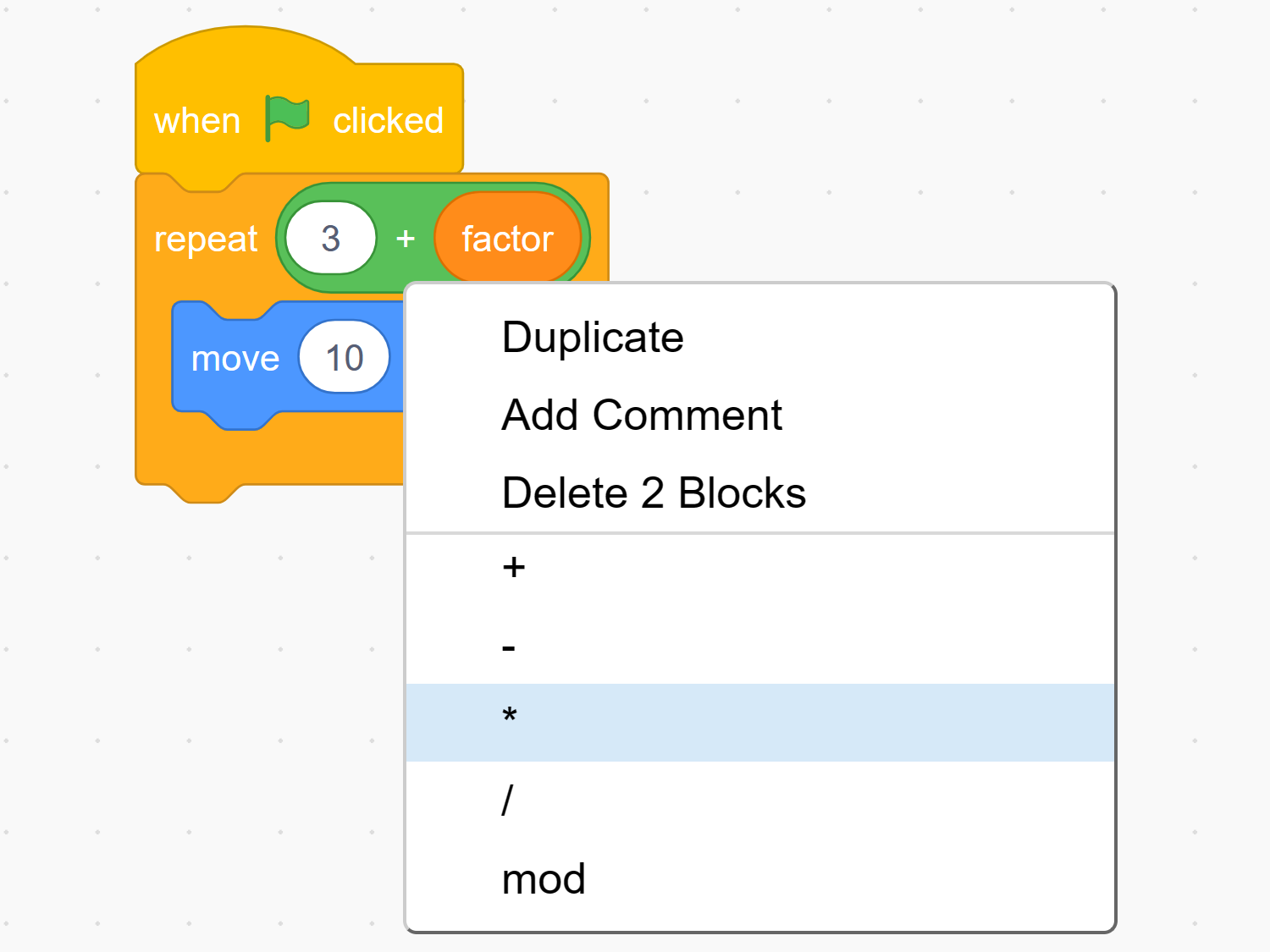 Block switching
⭐
block-switching
Right click on a block to switch it to a related block.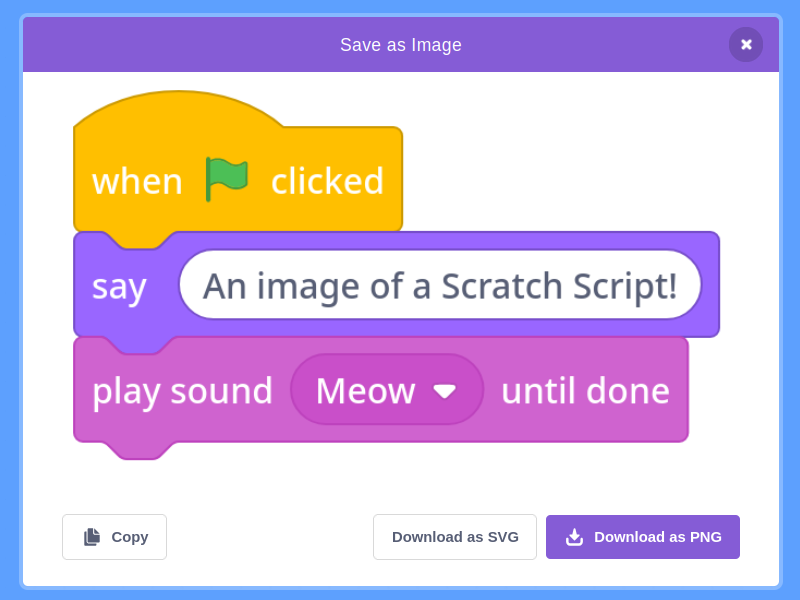 Save blocks as image
blocks2image
Right click the editor workspace to export blocks as SVG/PNG images.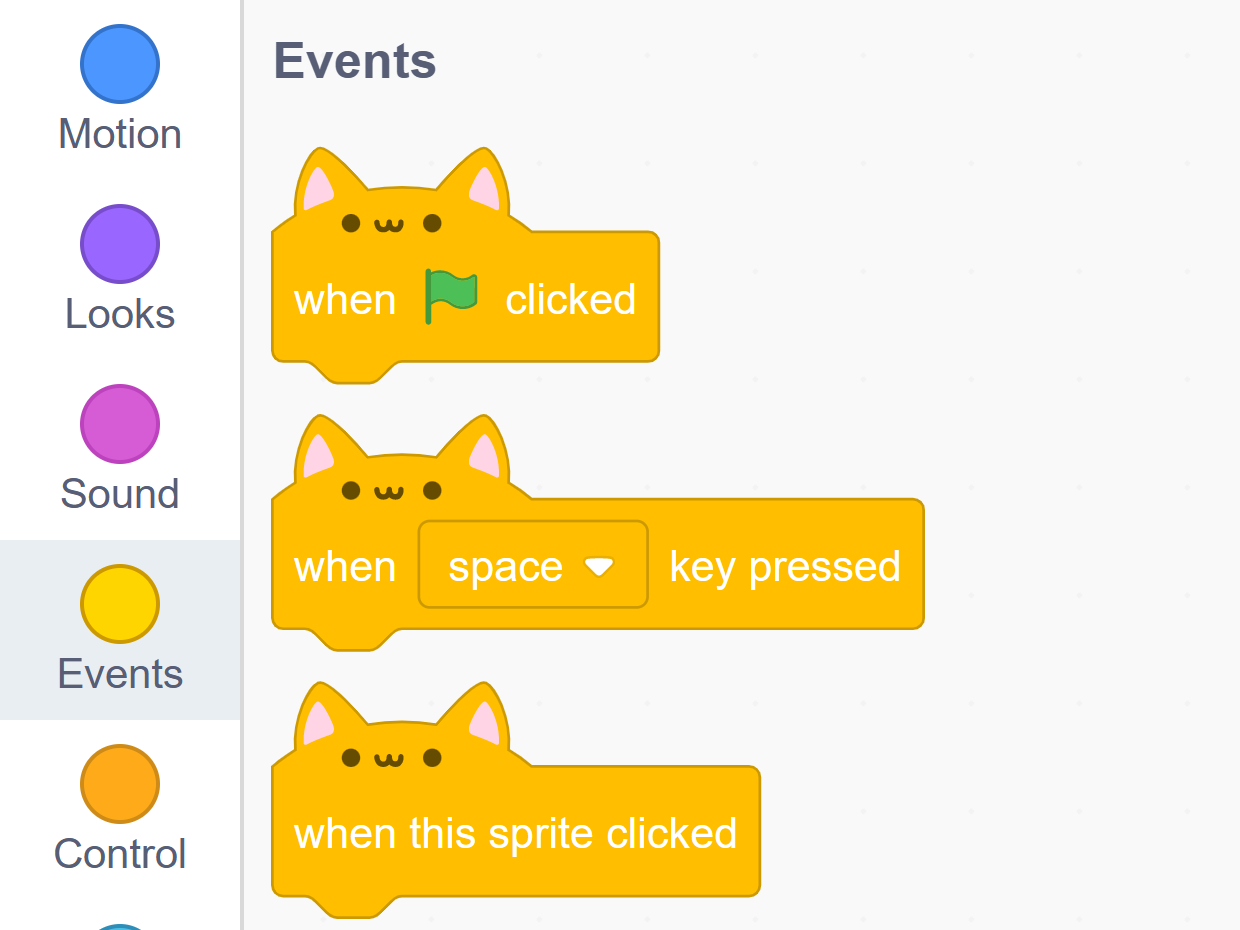 Cat blocks
cat-blocks
Brings back editor cat hat blocks from April Fools 2020.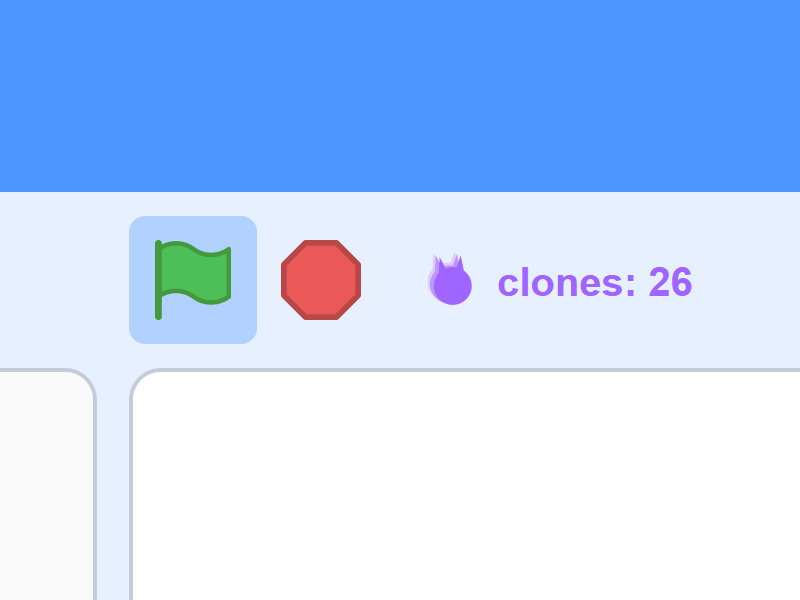 Clone counter
clones
Adds a counter in the editor which shows the total amount of clones.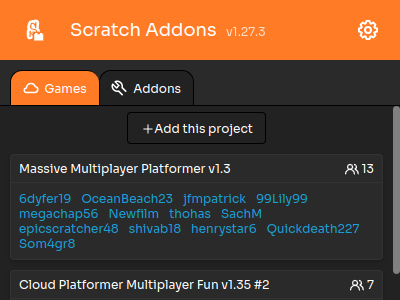 Cloud games
⭐
cloud-games
Available when clicking the Scratch Addons icon. Shows you how many Scratchers are currently on multiplayer projects, and their usernames.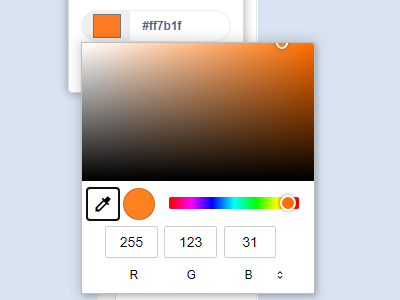 Hex color picker
⭐
color-picker
Adds hex code inputs to color pickers.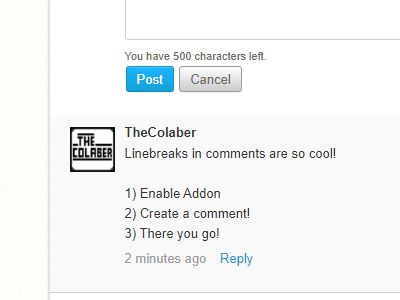 Linebreaks in comments
comments-linebreaks
Shows the linebreaks (pressing enter) in comments.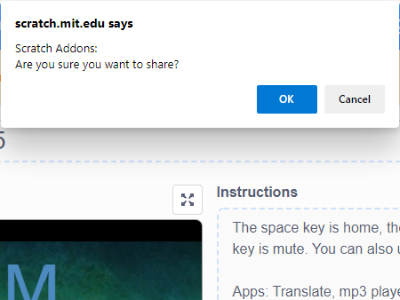 Confirm actions
⭐
confirm-actions
Asks if you're sure when committing actions under your Scratch account, such as sharing projects.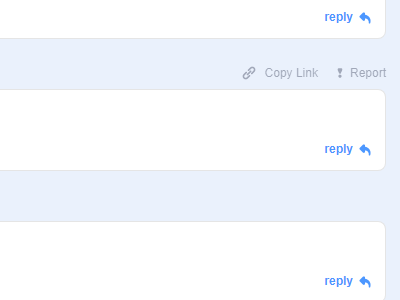 Copy link to comment button
⭐
copy-message-link
Adds a "Copy Link" button to all Scratch comments, next to the "Report" button.
Ctrl+Click to run scripts
ctrl-click-run-scripts
Only run block stacks on click if also holding the Ctrl key.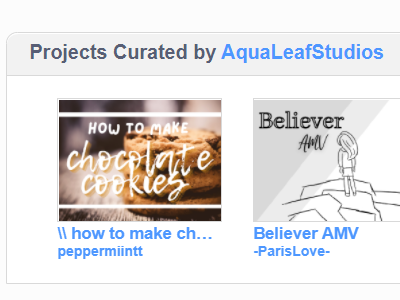 Curator link
curator-link
Creates a clickable link for the curator of the front page.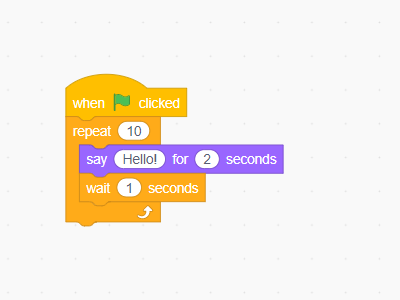 Custom block shape
⭐
custom-block-shape
Adjust the padding, corner radius, and notch height of Scratch blocks.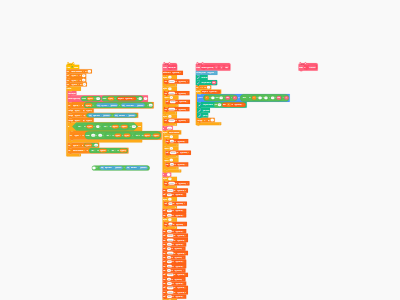 Custom scripts area zoom settings
custom-zoom
Adjust the minimum, maximum, speed, and start size of the zoom in the project code editor, and autohide the controls.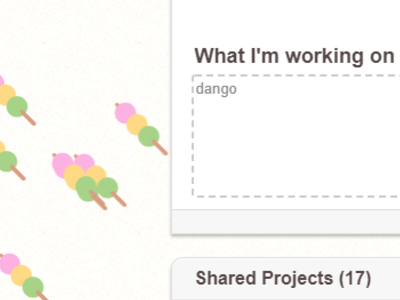 Dango rain on profiles (April Fools Day)
🥚
dango-rain
Users that include the word "dango" on their "About Me" will have dango emojis raining on the sides of their profile.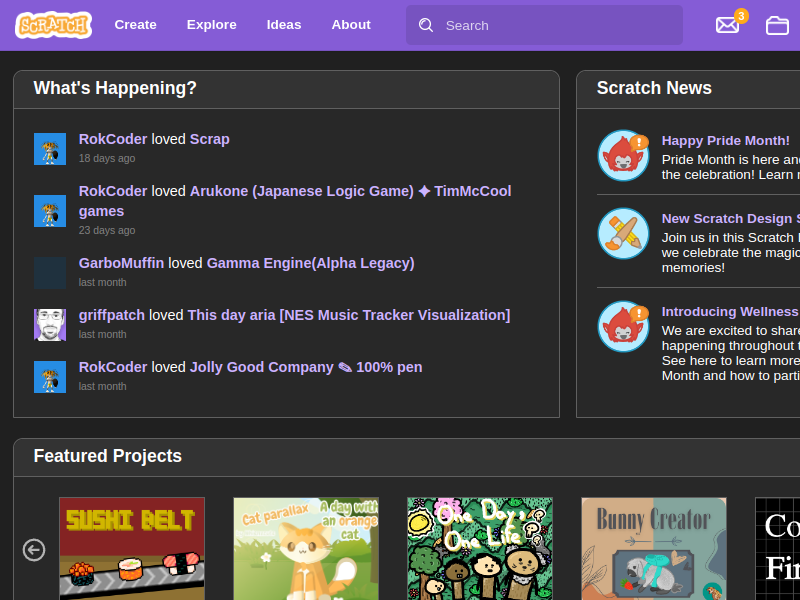 Website dark mode
⭐
dark-www
Dark theme for the Scratch website, both for 2.0 and 3.0 pages.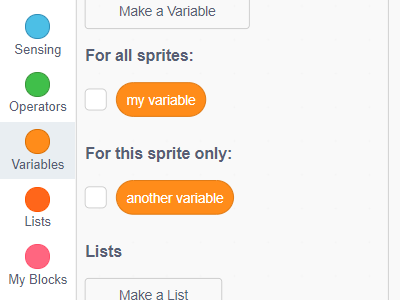 Data category tweaks
⭐
data-category-tweaks-v2
Provides tweaks for the Data ("Variables") category in the editor.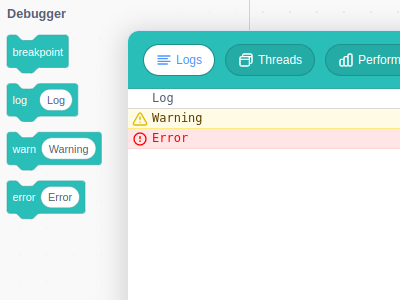 Debugger
debugger
Adds a new "debugger" block category and a "logs" window to the editor. The "log", "warn" and "error" blocks will print the specified message into the logs window. The "breakpoint" block will pause the project when executed.
Disable auto-save
disable-auto-save
Disables the automatic saving of projects while editing.
Non-draggable sprites in editor
disable-stage-drag-select
Removes the ability to drag sprites around in the stage, except those explicitly set as draggable.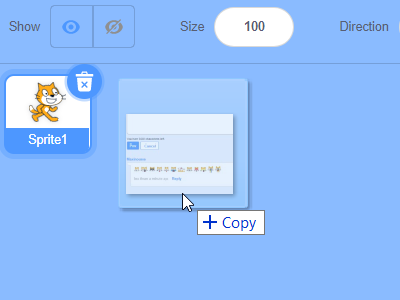 Drag and drop files
⭐
drag-drop
Lets you drag images and sounds from your file explorer into the sprites pane or costume/sound list. You can also drag text files into lists or "ask and wait" prompts.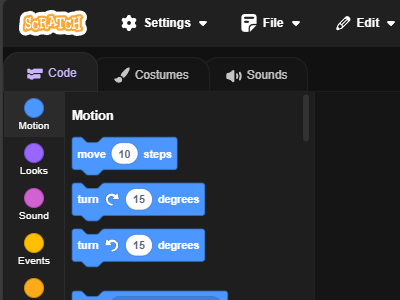 Editor dark mode and customizable colors
⭐
editor-dark-mode
Customize colors used by the project editor. Multiple dark themes by different authors available. If you don't need dark mode but want to change the default colors you can select the "Scratch's default colors" preset and tweak it.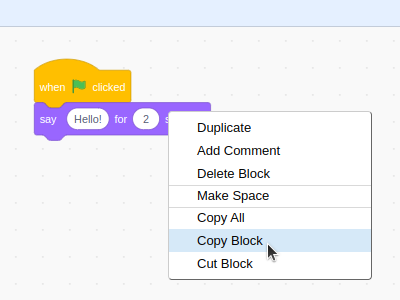 Developer tools
⭐
editor-devtools
Adds a find box and new menu options to the editor: copy/paste blocks, better tidy up, go to custom block definition, and more!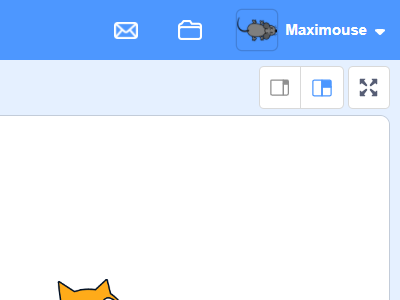 Messages in editor
⭐
editor-messages
Displays your message count in the editor.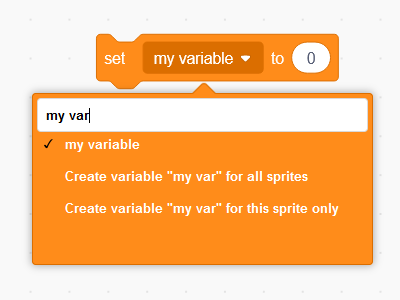 Searchable dropdowns
⭐
editor-searchable-dropdowns
Allows you to search dropdowns in the Scratch editor.
Editor sound effects
editor-sounds
Plays sound effects when you connect or delete blocks.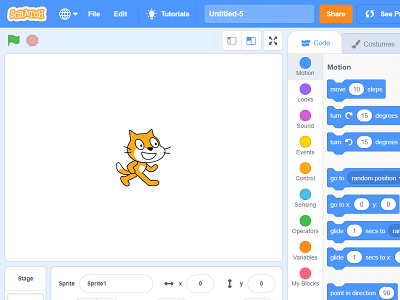 Display stage on left side
⭐
editor-stage-left
Moves the stage to the left side of the editor.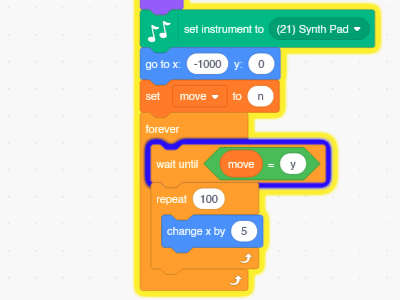 Highlight currently executing blocks
editor-stepping
Adds a colored border to the blocks that are currently running in a project.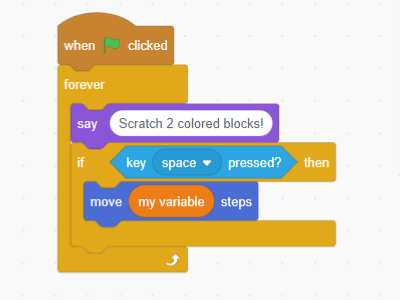 Customizable block colors
⭐
editor-theme3
Edit block colors for each category in the editor.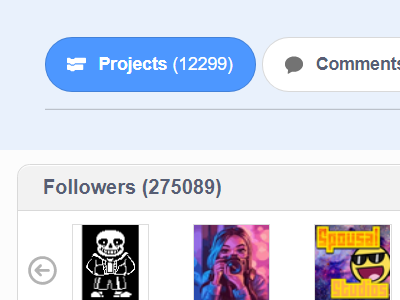 Show exact count
⭐
exact-count
Shows the exact count for user and studio info. Uses ScratchDB for forums information.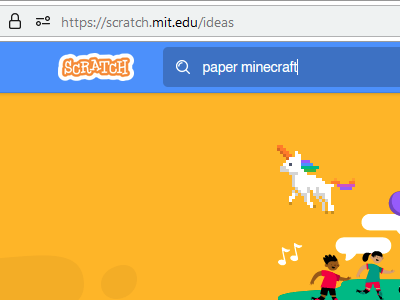 Expandable search bar
expanding-search-bar
Makes the search bar on the navbar wider when it's focused.
Do not automatically run duplicated blocks
⭐
fix-pasted-scripts
Fixes a bug in the Scratch editor, where duplicating a block and attaching it to a stack causes the stack to run.
Fix broken SVG uploads
fix-uploaded-svgs
Fixes a bug in the Scratch editor that fails to properly upload SVG files created with some image editors, such as Affinity Designer.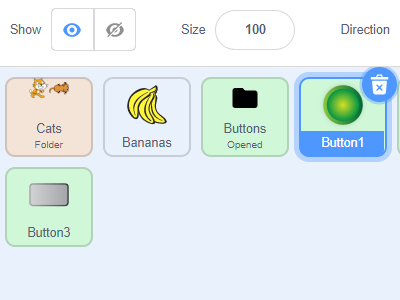 Sprite folders
⭐
folders
Adds folders to sprite lists, as well as costume and sound lists. To create a folder, right click any sprite and click "create folder". Click a folder to open or close it. Right click a sprite to see what folders you can move it to, or alternatively drag and drop it into an open folder.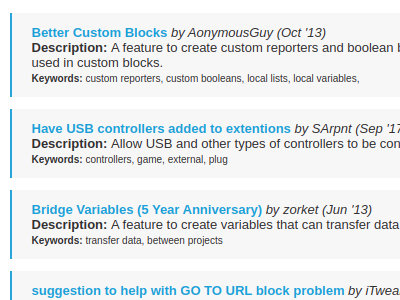 Customized quotes & code blocks on forums
forum-quote-code-beautifier
Shows nicer code and quote blocks on the forums.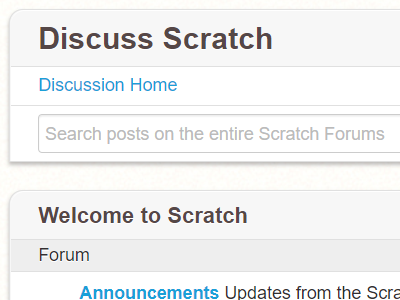 Forum search
forum-search
Adds a post search to the forum homepage. Uses ScratchDB for information.
Use local timezone on forums
forum-time-zones
Converts the post dates to your time zone. Uses ScratchDB for information.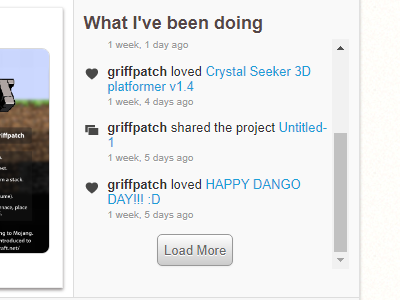 Show full areas
⭐
full-signature
Makes some elements with limited height resizable or scrollable, such as user signatures on the forums and What I've been doing on profiles.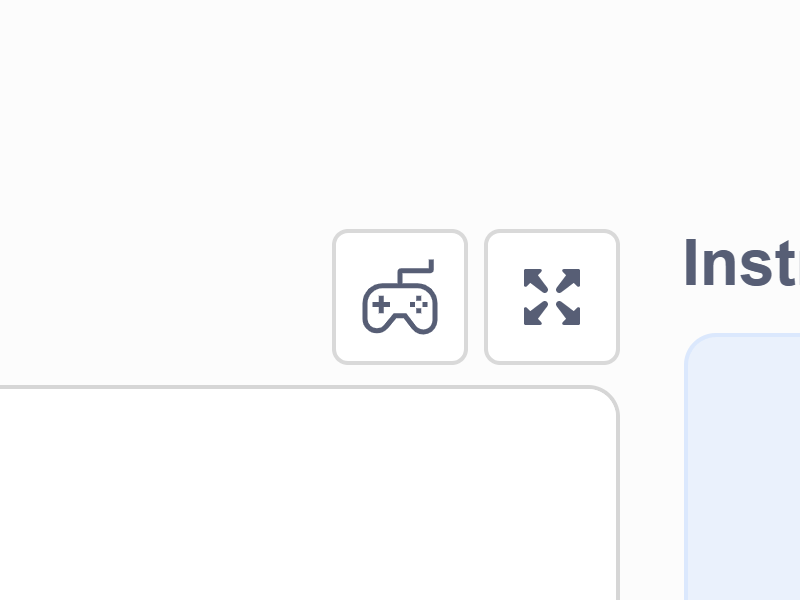 Gamepad support
⭐
gamepad
Interact with projects using a USB or Bluetooth controller/gamepad.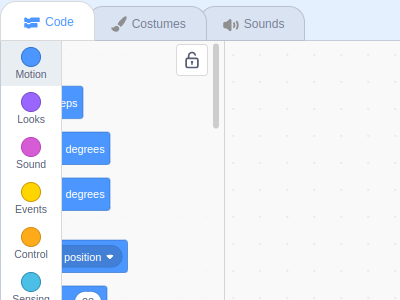 Auto-hide block palette
⭐
hide-flyout
Hides the block palette if not hovered. Click the lock icon to lock it in place temporarily. Alternatively, use "category click" mode.
Forums image uploader
image-uploader
Integrates image uploading into the forums.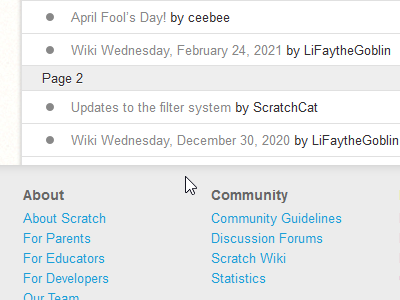 Infinite scrolling
infinite-scroll
Allow for scrolling on different parts of the site without having to click to "load more".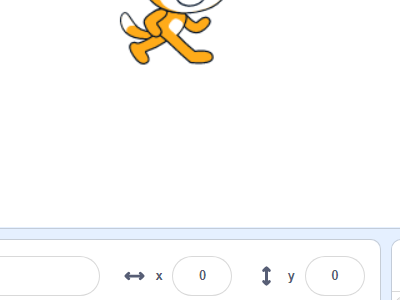 Change new sprite default position
initialise-sprite-position
Moves sprites to a specified x/y position when they are created.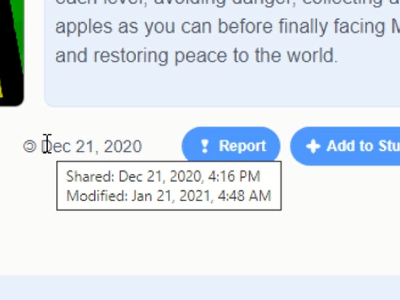 Shared/edited dates tooltip
last-edit-tooltip
Hover over a project's share date for information on when exactly it was shared and last edited.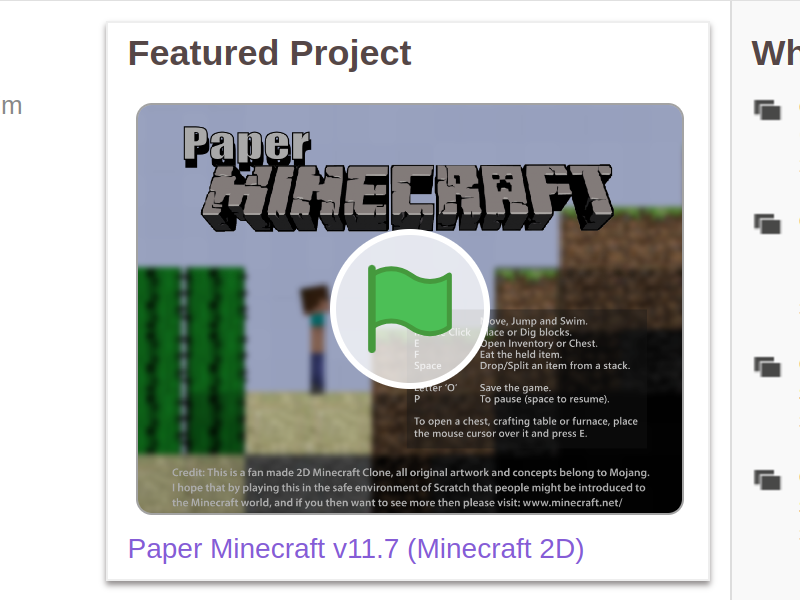 Live featured project
live-featured-project
Shows interactive embed of the featured project, directly from the user's profile page. Based on the implementation on Mega Scratch Userscript.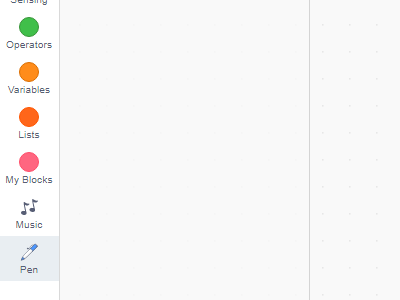 Auto-show editor extensions
load-extensions
Adds music, pen, and other editor extensions automatically to the block category list.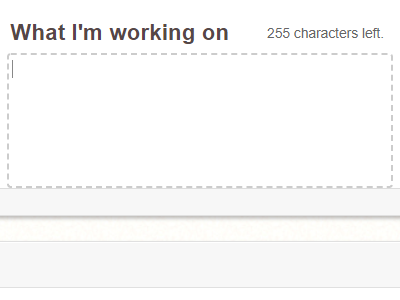 Higher character limit in "What I'm Working On"
longer-wiwo
Allows you to type 55 more characters in your profile's "What I'm Working On". Everyone on Scratch will see the extra characters.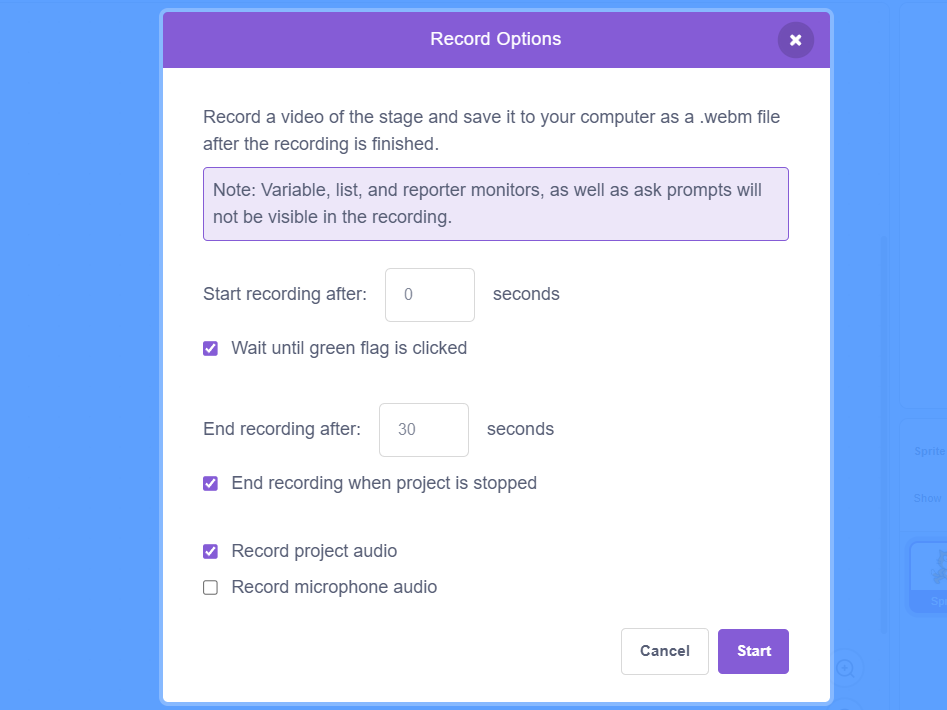 Record project video
⭐
mediarecorder
Adds a "start recording" button to the editor that allows you to record the project's stage.
Filter messages on Scratch's messages page
message-filters
Lets you select what types of messages to hide or show on Scratch's messages page.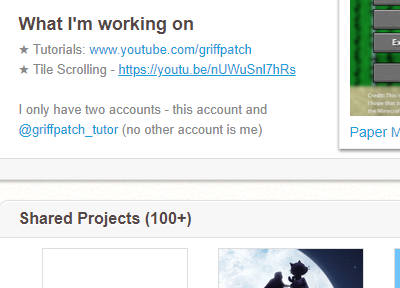 More links
more-links
Adds links for URLs pointing outside scratch.mit.edu.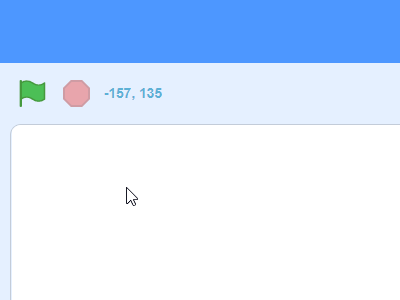 Mouse position
⭐
mouse-pos
Displays your mouse position next to the flag in the editor.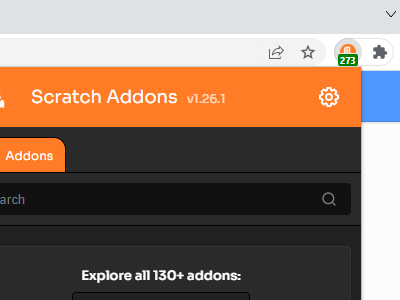 Message count on extension icon
⭐
msg-count-badge
Adds the current message count in the Scratch Addons icon.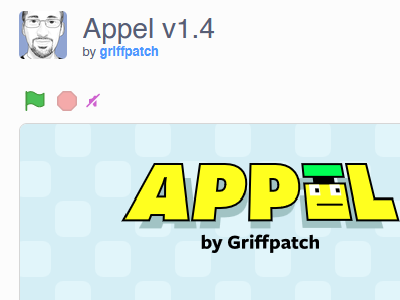 Mute project player
⭐
mute-project
Ctrl+Click the green flag to mute/unmute the project.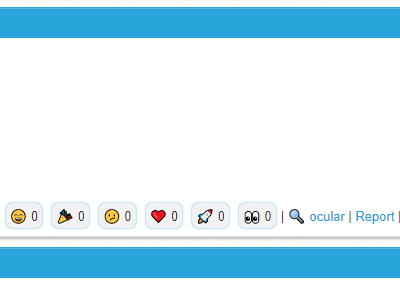 Show ocular.jeffalo.net statuses and post reactions
my-ocular
Shows ocular statuses and reactions. Uses jeffalo.net to obtain data.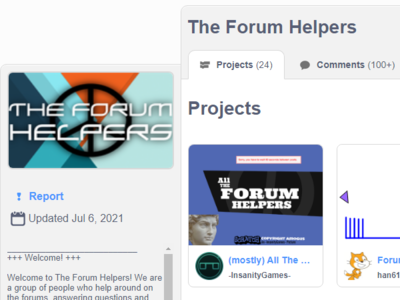 Old studio layout
old-studio-layout
Reverts the layout of the studio page back to the one used before the studio update or the one previously available as part of the Scratch 2.0 → 3.0 addon.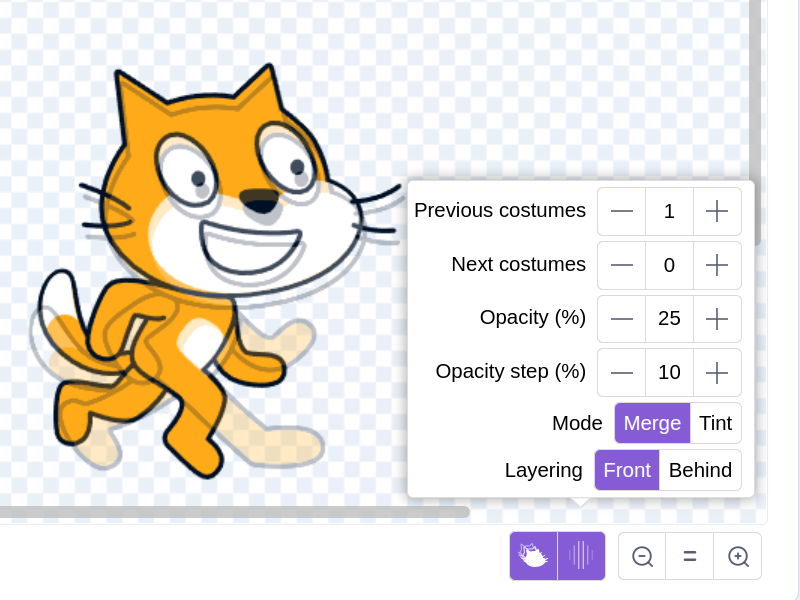 Onion skinning
⭐
onion-skinning
Shows transparent overlays of previous or next costumes when editing a costume. Controlled by buttons under the editor by the zoom buttons.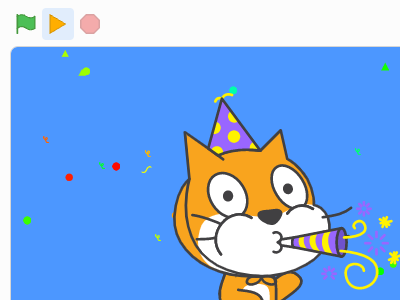 Pause button
⭐
pause
Adds a pause button next to the green flag.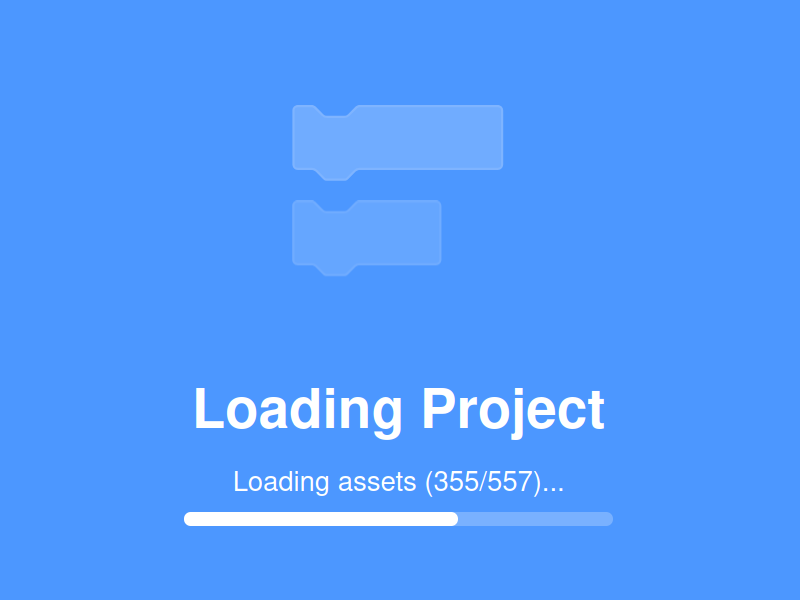 Project progress bar
⭐
progress-bar
Adds a progress bar for loading and saving projects.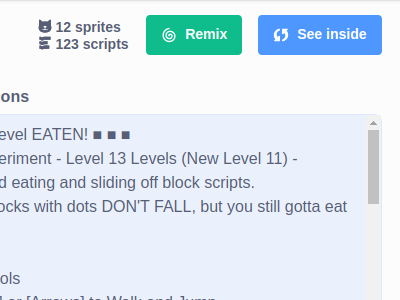 Sprite and script count
project-info
Shows the number of sprites and scripts a project has.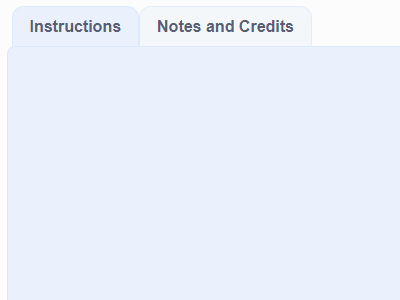 Project notes tabs
project-notes-tabs
Creates tabs on a project page for the "Instructions" section and the "Notes and Credits" section.
Redirect mobile forums to main forums
🥚
redirect-mobile-forums
Redirects you from /discuss/m/ to /discuss/.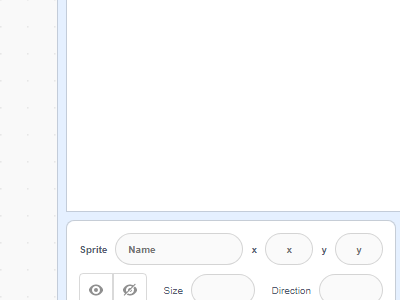 Remove curved stage border
remove-curved-stage-border
Removes the curved border around the stage, allowing you to see the corners.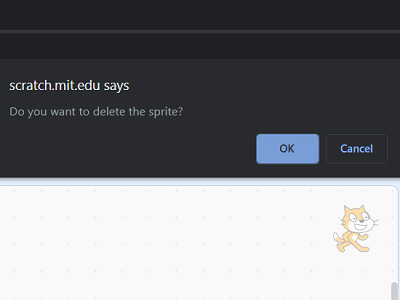 Confirm sprite deletion
⭐
remove-sprite-confirm
Asks if you're sure when deleting a sprite inside a project.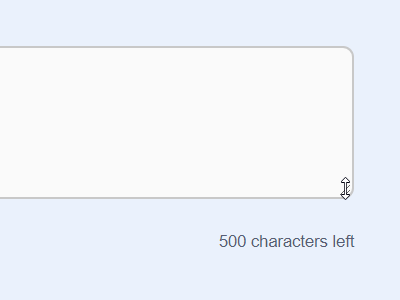 Resizable comment input
⭐
resizable-comment-input
Makes the comment input box vertically resizable in Scratch 3.0-styled pages.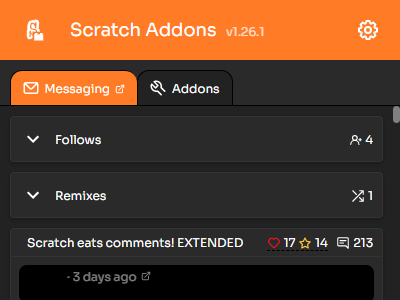 Scratch Messaging
⭐
scratch-messaging
Available when clicking the Scratch Addons icon. Provides easy reading and replying to your Scratch messages: groups messages by project, shows full comment text and context, allows direct comment replying.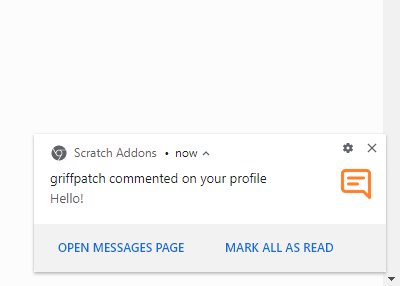 Scratch Notifier
⭐
scratch-notifier
Notifications on new Scratch messages. Click the notification to go straight to the message (comment, project, etc.)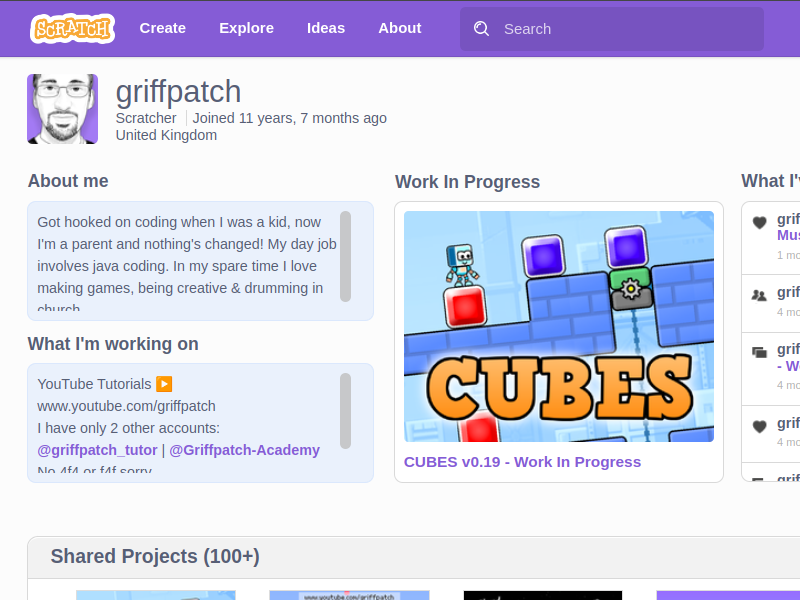 Scratch 2.0 → 3.0
⭐
scratchr2
Makes Scratch 2.0-styled pages look like Scratch 3.0.
Profile statistics
scratchstats
Shows statistics from ScratchDB on profile pages.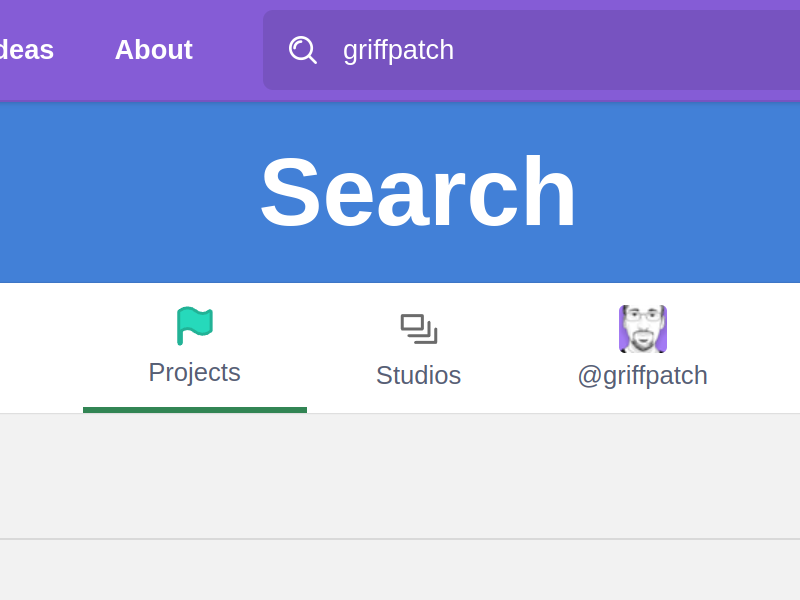 Search profile
⭐
search-profile
Allows you to go to a user's profile when you search their username.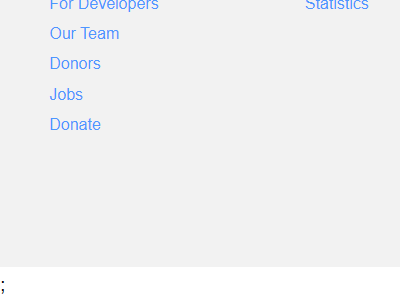 Semicolon glitch
🥚
semicolon
Adds the semicolon glitch back to Scratch.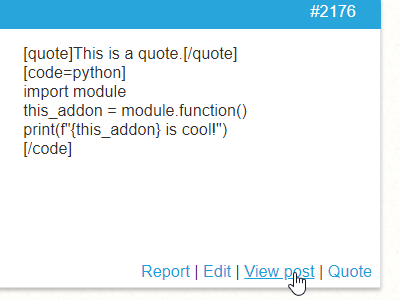 Show BBCode
show-bbcode
Adds a button to the forums that shows the BBCode source of a post.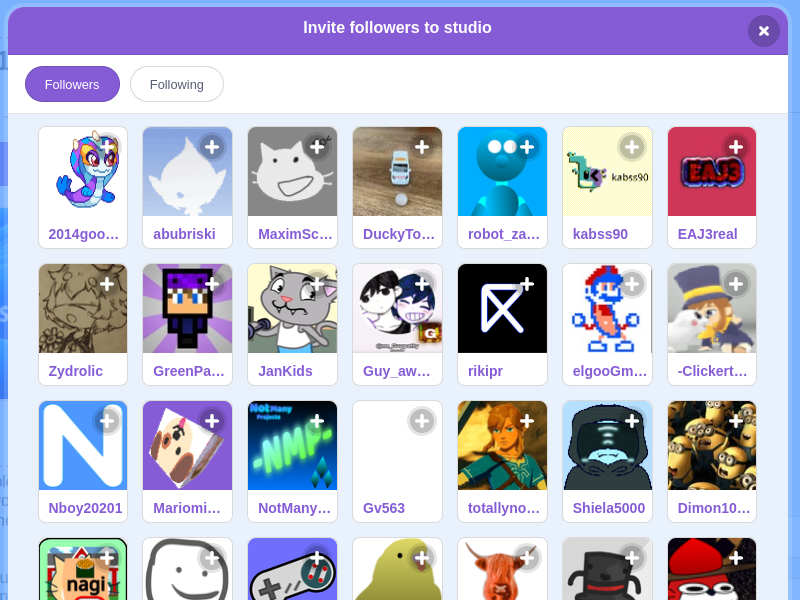 Browse followers button in studios
studio-followers
Adds a button at the top of the "curators" tab in studios you manage, that lists your followers/following and lets you invite a shown user with a single click.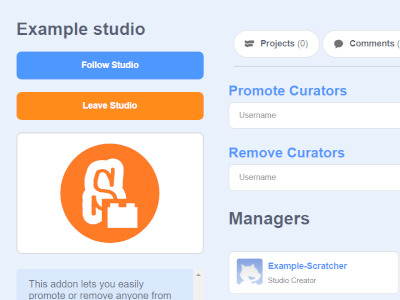 Studio manager tools
⭐
studio-tools
Lets you easily promote or remove anyone from your studios, as well as leaving any studio, through the "curators" tab.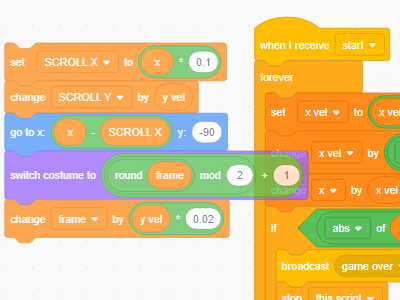 Block transparency
transparent-orphans
Adjust the transparency for blocks in the editor, with separate options for orphaned blocks (those without a hat block at the top) and blocks that are being dragged.
True forums YouTube links
true-youtube-links
Replaces links to the embedded site with real YouTube links.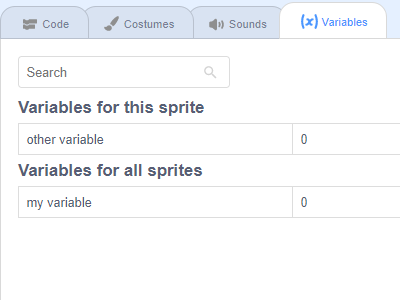 Variable manager
⭐
variable-manager
Adds a tab next to "sounds" in the editor for easily updating variables and lists.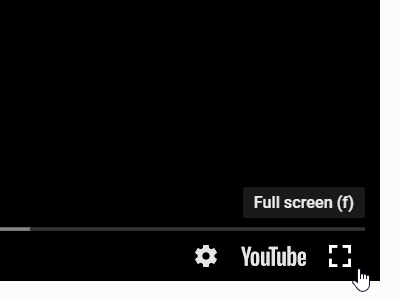 YouTube full screen
youtube-fullscreen
Enables the full screen button in Scratch's YouTube video player.